---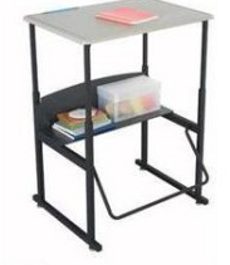 The AlphaBetter Standing Desk
From jobs that require hours of computer time to relaxing in front of the television set, we are spending a lot more time sitting down than we used to.
While the link between a sedentary lifestyle and obesity is well established, a group of Canadian researchers now says a lack of physical activity can lead to cancer. Presenting at the American Institute for Cancer Research annual conference, the researchers says as many as 49,000 cases of breast cancer and 43,000 cases of colon cancer occurring in the U.S. every year are linked to a lack of physical activity.
Daily exercise may not help
Specifically, the researchers honed in on sitting for prolonged periods, finding that sitting for long periods of time can increase some of those same indicators of cancer risk, even among people who exercise daily.
"Taken together, this research suggests that every day, we're each given numerous opportunities to be active and protect ourselves from cancer, not one," said AICR spokesperson Alice Bender, MS RD. "We need to start thinking in terms of make time and break time."
According to the study, led by Christine Friedenreich, PhD, of Alberta Health Services-Cancer Care, getting a vigorous workout every day – while part of a healthy lifestyle – won't lessen what she sees as the cancer risk from prolonged sitting.
Advice
Her advice? Make time for physical activity and break every hour of sitting with one to two minutes of activity. These breaks can be as simple as walking to a colleague's office instead of sending an email or going to the kitchen to get a glass of water.
"Making time to get at least half an hour of moderate to vigorous activity every day is great, and more Americans need to do it, but those 30 minutes represent only a sliver of our day," Bender said. "This new research on break time suggests there are small things we can do in the other 15 hours and 30 minutes we spend awake that also make a big difference."
Friedenreich's research might be another reason to consider switching to a stand-up desk at work. Independent research has suggested there are health benefits to standing rather than sitting – everything from better posture to increased calorie burn.
Stand-up desks and work stations can cost less than $200. The Safco AlphaBetter desk pictured above costs about $189 and has been used by some ConsumerAffairs.com editors for more than two years.  It is adjustable and has a foot rest, which most authorities say is essential; being able to rest one foot at a time relieves back strain. 
More elaborate systems add a slow-moving treadmill, allowing workers to keep moving while at their desks. And if you don't buy the cancer risk research, there is plenty of other research to suggest that sitting is simply not as healthy as standing.
Earlier this year the American College of Cardiologists issued a study suggesting sitting for long periods of time was as harmful to the circulatory system as smoking cigarettes.The research showed that prolonged periods of sitting increases the risk of heart disease, obesity, diabetes, cancer and early death.
---