---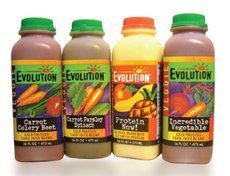 There's a limit to how much caffeine we can absorb, but that's not stopping Starbucks in its search for more sales, more stores and, well, more money. To move things along, Starbucks is paying $30 million for Evolution Fresh Inc., a premium juice brand.
"Starbucks has seen success with expanded healthier menu items to deliver the nutritious, on-the-go options consumers are seeking," the company said in a prepared statement. "With this acquisition, Starbucks will reinvent the $1.6 billion super-premium juice segment, its significant next step in entering the larger $50 billion Health and Wellness sector."
The company said Evolution Fresh will enable Starbucks to "bring a unique, premium juice product to the marketplace through the creation of a differentiated brand and experience, similar to what Starbucks pioneered 40 years ago for coffee consumers."
"Tthe company believes it will be able to take a currently undifferentiated, commoditized product segment and introduce a unique, high-quality product to redefine and grow the super-premium juice market," the Starbucks statement continued.
Trying to penetrate the marketing jargon in corporate statements isn't always easy, but Starbucks seems to be saying it plans to grab a big foothold in the supermarket juice business and maybe even open a line of juice bars.
Leverage scale
"Our intent is to build a national Health and Wellness brand leveraging our scale, resources and premium product expertise. Bringing Evolution Fresh into the Starbucks family marks an important step forward in this pursuit," said Howard Schultz, Starbucks chairman, president and CEO.
Evolution juices are already carried in Whole Foods, Safeway, Costco and many Trader Joe's stores, thus clearing a major obstacle in establishing a new or rebranded product line.
Evolution Fresh was started by the original founder of Naked Juice, Jimmy Rosenberg. He decided to get back into the premium juice business to found Evolution Fresh, which claims to be one of the only "true juiceries" left in the industry -- meaing one that still cracks, peels, presses, and squeezes its own raw fruits and vegetables.
Evolution's uses a process called High Pressure Pasteurization (HPP), producing "never heated" juices, which are said to be tastier and more nutritious than those that are pasteurized through traditional methods.
"Using High Pressure Pasteurization (HPP) to help ensure the inherent nutrients are kept intact during the juicing process is a key point of differentiation for a growing number of our juices," said Jimmy Rosenberg, founder of Evolution Fresh, Inc. and the newly named chief juice officer (CJO?) of Evolution Fresh.
"Consumers trust the Starbucks brand to deliver on superior best-in-category quality and taste. On behalf of all of us at Evolution Fresh, we are proud to join the Starbucks organization," he said.
---