---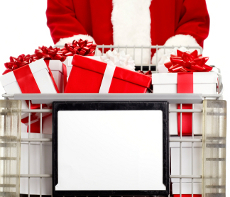 With the start of the holiday shopping season, consumer authorities across the country are urging consumers to stay safe, both physically and fiscally.
Besides the obvious pushing and shoving that can mark Black Friday, consumers can also get blindsided by unsafe products. Illinois Attorney General Lisa Madigan says you should be on the lookout for recalled products that are still on the shelf.
"Unfortunately, when a recall is issued, these products don't just vanish," Madigan said. "They wind up in people's homes, at second-hand shops or posted online at sites like eBay or Craigslist.
Madigan has published a Safe Shopping Guide, detailing products that have been recalled over the past year and pose a significant danger to children. In 2011, the U.S. Consumer Product Safety Commission has issued 91 children's product recalls, covering more than 8 million individual items that include toys, jewelry, cribs, furniture, baby gear and clothing.
Counterfeit goods
In Mississippi, Attorney General Jim Hood is warning consumers to beware of unscrupulous people selling counterfeit or pirated goods, either in person or online. Many times, they sell these items on websites that look legitimate, accepting credit cards and decorating their site with corporate advertisements.
However, the "amazing" deals may not be legitimate, Hood says. These scam artists often set up temporary retail shops as well, where they are poised to defraud consumers with the same inferior goods.
"The Internet has become the crime scene of our generation," Hood said. "In addition to shady shop owners that are prepared to scam you in person, the phenomenon of online piracy is increasing every day. Consumers must remember to be just as diligent online as they are in person."
The danger of counterfeit goods is that they may actually be dangerous. Hood says the best way to tell if an article is counterfeit is its price – if it seems like the deal is too good to be true, it probably is.
Rainchecks & refunds
Meanwhile, the New Jersey Division of Consumer Affairs has reminded shoppers to know their rights about rainchecks, gift cards, and item refunds. Also, they should look closely at layaway plans, that are cropping up at many stores.
"We're seeing a resurgence in layaway plans offered by stores this year," said Thomas R. Calcagni, Director of the New Jersey Division of Consumer Affairs. "As with any offer, consumers should learn all the details, know the associated costs, and judge whether it is a good deal for them."
Calcagni urged consumers to know their rights in the marketplace and offered the following advice and information:
Store Layaway: Know the terms of the store's layaway plan. Do not assume layaway is free.
Rainchecks: A retailer may, but is not required to, offer a raincheck for advertised merchandise that is not available for purchase. When a raincheck is issued: The retailer has 60 days to honor the raincheck, unless the consumer holding the raincheck agrees to an extension; If the item costs more than $15, the retailer must give written or telephonic notice to the consumer when the item becomes available; and After such notice is given, the item must be held for the consumer for at least 10 days or the end of the 60-day raincheck period (whichever is greater).
Refunds: Refund policies at some retailers may include a restocking or reshipping fee. Whatever the refund policies, retailers must conspicuously post them for all merchandise in one of the following locations: Attached to the item itself; Affixed to each cash register or at point of sale; Situated as to be clearly visible to the buyer from the cash register; or Posted at each store entrance used by the public.
Gift Cards: No gift card or gift certificate can expire for five years after purchase; No dormancy fee can be imposed within the first 24 months following purchase or within the 24 month period following last use of the gift card; After 24 months of non-activity, the issuer may charge a maximum dormancy fee of $2 per month; and the gift card must include a telephone number to call for information about its expiration date or dormancy fees.
Online Purchases: Be certain the website is secure or uses encryption before entering personal and credit card information – look for "https" in the website address; Verify that the business operates from a real location and be wary of businesses that only list a Post Office Box as an address; Find out how the business resolves consumer disputes, by reading the posted "terms and conditions";
Print out a transaction record for each purchase and keep it to resolve any issues regarding the item being purchased; and Do not click on links contained in unsolicited emails from supposed shopping websites.
Be a Savvy Shopper: Make a budget and know what you can afford before you start shopping; Compare prices for the same item in store flyers or on the internet before making your purchase; and Avoid identity theft by protecting your credit card receipts and sales slips that contain personal information.
---