---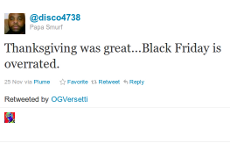 Maybe it's indigestion from all those big Thanksgiving dinners, but whatever the reason, Black Friday seems to bring out the worst in shoppers, retailers and just about everybody else. This year was certainly no exception.
In Los Angeles, 20 people were injured at Walmart store when a woman opened up on her fellow shoppers with pepper spray. Police called it a "competitive shopping incident."
In Northern California, police say a Black Friday shopper was shot and critically wounded during a robbery outside a Walmart in San Leandro.
As always, there were disappointments when featured items sold out sooner than expected -- or, according to some, didn't exist to begin with.
Sarah of Santa Ana, Calif., went to Walmart Thursday night and picked up one of the tickets for a PS3 bundle that was on sale for $199.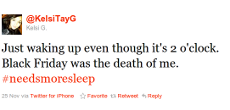 "I got my ticket, waited in line for 2 1/2 hours for 10:00 p.m. to come," she told ConsumerAffairs.com. "When it came out turn to get the PS3, they say, 'Sorry we have no more PS3s. All we have left are PS350' that were an extra $150."
"You would think that they would count the merchandise they have and hang out that many tickets until waiting til the end and giving us that 'We're sorry' crap," Sarah said.
Then there's Beth of Levittown, Pa. "I went to buy the PlayStation 3 Starter Bundle on Walmart which was $229 at 3pm on 11/26, I had to go out and by the time I came back at 6:30 the price had gone up to $263 for the item. ... Now mind you, it was a lot cheaper on Black Friday and so I was going to pay more buying after that day, but for the price to change again in less than 4 hours. I could see if it changed at midnight, but during the day! That shouldn't be allowed."
Kristina of Gettysburg, Pa., had a similar experience.
"The Gettysburg Walmart employees and flyers had stated that Black Friday sales for everything but electronics would start at 10:00pm and electronics would start at 12:01am. We got in line around 9pm and entered the store about 10:15pm and had made our way to the electronics -- we had gone for got to the xbox 360 kinect bundle for $199.99 and at 10:25pm all they were all sold out along with every other electronic," she said.
"I am very upset and mad that Walmart had lied in the flyer and employees that they had sold out of every electronic before they were even stated they were suppose to start handing them out! ... There should be a raincheck or discount gift cards given out due to the false advertisement!"
As did Kassandra of Marshall, Texas:
"The Walmart flyer states at 8am on Friday morning the PSP will be $99.00...I was number 6 in line only to find out the store did not get the shipment. I went to the Walmart facebook page and this same problem happened in other stores all across the US."
A sorry sight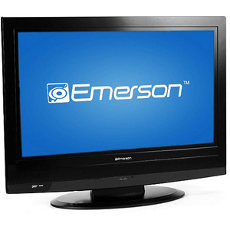 Josh of Blackwell, Okla., rushed over to Walmart and bought an Emerson 40-inch TV for $248.
"I was thinking what a steal. Waited four hours in line and felt lucky that I had gotten one. Little did I know what big pieces of s*** they were. Mine lasted a whopping 16 hours before it quit working," Josh said. "These TVs are junk and screw Walmart for knowingly selling them. When I returned it to Walmart they were not even surprised."
Toy of Ooltewah, Tenn., only stood in line for three hours to get an Emerson 32-inch TV but, like Josh, isn't delighted with her purchase.
"My husband took the TV out of the box and we plugged it in -- only half the screen shows. We called Emerson, they said it was a defect and to take it back to Walmart to get our money back," Toy said.
"We called Walmart [and] they said they don't have any other TVs for that price and they will give us our money back. I was upset because that is not really fixing the issue."
"I will never buy electronics from Walmart again."
Kohls
"I went especially for an item listed in their sale bill," said Toni of Norman, Okla. "The item was a Bella brand Belgian rotating waffle maker for 9.99. When I went to pay for it they told me that this was 62.99."
Toni said she showed the sale bill to the cashier "advertising this exact product word for word" but got nowhere.
"The cashier said that several people have complained about this and she didn't know why the didn't specify the two machines they had why one was higher even though the ad clearly stated the same kind and brand of the one I took up to buy at the register," Toni said. "They basically said 'too bad'" and I let them know that ... it really upset me to go all the way there and fight the traffic and lines to get there and not be able to leave with what I especially went there for."
Conn's
Conn's made an enemy of Gwen of Lafayette, La.
"Conn's would not price match an item I bought there. They stated the price match item was for 'Black Friday' and they will not honor the sale price. I showed them their price match policy that doesn't say any exceptions like 'Black Friday'."
Online not always better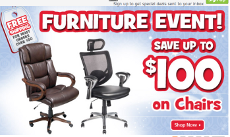 John of Wilmington, N.C. wanted to avoid the crowds so he went to OfficeMax.com and tried to order an office chair.
"I made two attempts and received errors both times. I never received order confirmation, however my bank account has been debited. I emailed customer service and was told that my order did in fact go through and was given an order number.
"Unfortunately, when I try to track my order I get a message stating that order number cannot be found. I've made several attempts to contact customer service again and have received no further assistance," John said.
Dell
At least Denise of Littleton, Colo., didn't go trudging through the night in search of savings. She stayed home where it was warm and toasty and called Dell's 800 number. But she was disappointed anyway.
"Tried to purchase a Black Friday deal desktop for the advertised price of $211. I was on hold for 50 minutes and finally got thru to Rich. Apparently it was a misprint, an advertised price that happened to be a misprint in a catalog sent exclusively to preferred customers," she said.
"They refused to offer us any kind of deal or incentive, certainly not the advertised price. Will not be buying another Dell... that's just bad business," Denise said.
No room at the inn
John of Chino, Calif., wanted nothing to do with any of it. Instead of shopping, he and some friends decided to spend a few nights at the Hard Rock Hotel in San Diego.
"Booked under a special promo code for Black Friday," he said. "Only first 10 people to book under that promo were gonna get a room for $25.00 and $50.00 room credit. I booked two rooms, and my wife booked two rooms. Got the confirmations same night."
But John said the next day he got an email saying there was a glitch in the reservations system system and the offer was shown as being available longer than it should have been.
"They are not going to honor the promotion I booked under but would give me a different promotions at 4 times the price and no room credit," he said. "I have to call by 11/28 or my reservation will be cancelled automatically. Can they do this?"
Short answer: It's a Black Friday grey area. John should call the San Diego County District Attorney's office.
---