---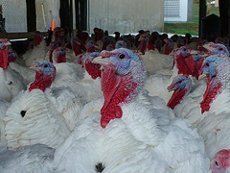 Even without Herman Cain at the helm, the National Restaurant Association is preparing for another big Thanksgiving. The trade group estimates that 14 million Americans will visit a restaurant for a Thanksgiving meal this year, and an additional 16 million will use restaurant takeout to supplement a meal at their own or someone else's home.
In addition, 32 million Americans are expected to dine out while shopping on Black Friday, according to new research by the Association.
Whjy no groaning board at home? In a word: convenience, according to Hudson Riehle, who is senior vice president of something called the "Research and Knowledge Group" at the restaurant association.
"In today's activity-rich, time-poor society, restaurants play an important role in bringing friends and family together to share a holiday meal for Thanksgiving," Riehle said. "Our research clearly shows that the convenience of restaurant meals – not having to shop, cook and clean up – drives consumer behavior and will lead millions of Americans to patronize restaurants this Thanksgiving."
The cost of convenience
Unfortunately, convenience can also drive the expansion of our waistlines, according to a study published by Penn State last year, before Joe Paterno had been sent to the sidelines.
The researchers surveyed chefs, restaurant owners, and culinary executives from across the country to assess their perceptions of serving healthy foods in restaurants.
In the survey, 72% of the 432 respondents said they could trim off 10% of the calories in meals without customers noticing differences in taste, and 21% said they could trim off at least 25% of the calories. This small change could lead to a major impact on the obesity epidemic.
"Reducing intake by as little as 100 calories per day can amount to a significant weight loss over a year," says Liane Roe, research nutritionist in Penn State's Department of Nutritional Sciences and co-author on the team's findings, which appeared in Obesity.
Roe and co-author Barbara Rolls, holder of the Helen A. Guthrie Chair in Nutrition, found that many chefs were not familiar with the calorie content of the meals they served. 49% were only somewhat familiar with how many calories their meals contained and stunningly, 7% had no idea at all.
"If a large number of chefs don't know the calorie content of their food, they will be limited in their ability to modify what they serve to guests," said Roe.
On the road again
Besides convenience, consumers who plan to dine out for a Thanksgiving meal this year say they will do so because they are traveling and don't have the ability to cook (22 percent), they prefer to go to restaurants on special occasions (15 percent), somebody else is hosting and they prefer to dine out (15 percent), and they don't have enough space to host a Thanksgiving event (12 percent).

For those planning to order full or partial Thanksgiving meals for takeout, those who didn't cite convenience as the main reason said they will turn to restaurants because they aren't good cooks (15 percent), they don't have time to prepare food (10 percent), and the taste and quality of restaurant food is better (3 percent).

Overall, 55 percent of American adults say they plan to eat a meal at their own home this Thanksgiving, 46 percent say they plan to eat a meal at someone else's home, 6 percent plan to dine at a restaurant, and 3 percent don't plan to have a special meal. One in 10 plans to have more than one Thanksgiving meal this year.

The National Restaurant Association surveyed 1,011 American adults on November 10-14 about their dining plans for the Thanksgiving holiday weekend. Projections for the number of Americans who will visit restaurants or order takeout are based on economic analysis and research conducted over the last two decades by the National Restaurant Association.
---