---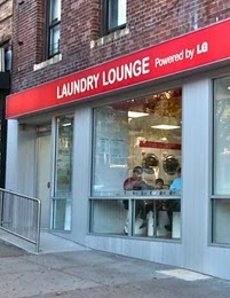 Remember what getting an oil change used to be like? You had your choice of standing around outside the service station breathing gas fumes and being panhandled. Or you could sit inside the cramped cashier's office next to the Payday bars and energy drinks while the grease monkeys worked on your car.
Then, along came JiffyLube and its competitors. Now you can sit in a little waiting room watching TV and smelling stale coffee while the grease monkeys work on your car. It's better, right?
LG, the Korean appliance-maker, is hoping to do the same thing for laundromats, not exactly everyone's idea of a great place to spend time.
LG says it will be a different experience at its "Laundry Lounge by LG." The pinkish new centers will feature high-def TV, free Internet, bright lighting and stylish seating. So we're told anyway.
"With this new concept, we're offering patrons a fresh experience by integrating key components of the home in public laundry venues, confirming the notion that life doesn't have to stop because you have to do laundry," Sam Kim, Appliance President for LG Electronics USA, said as part of the announcement.
LG described its first Laundry Lounge as being on the Upper West Side of Manhattan. In fact, it's at at 139th and Amsterdam, which anybody will tell you is West Harlem. Maybe LG thinks Harlem isn't a upscale neighborhood? We don't know but gaffes like this don't go down well with the locals. (We're reminded of Apple claiming its Tysons Corner store was in Washington, D.C. Uh, it's in Virginia.)
Despite its neighborhood being dissed by LG, the popular blog
HarlemBespoke.com
spoke kindly of the concept, opining that "it probably would be safe to say that most uptowners would gladly welcome one of these Laundry Lounges opening on their block."
HuffingtonPost's Jason Gilbert was less impressed. The TVs are small and there aren't many chairs, he
wrote
: "There is no seating in front of these televisions, which means that this laundromat isn't so much a 'lounge' as it is a 'bar without chairs or booze."
---