---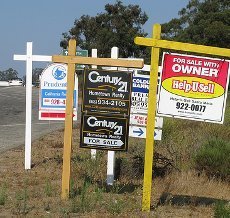 The Commerce Department reports housing starts fell 0.3 percent in October, but it was a much better showing than most analysts expected. Building permits, an indicator of future activity, surged 10.9 percent during the month.
That news comes in the same week that the Mortgage Bankers Association reported that delinquencies on mortgage payments fell to just under eight percent in the third quarter, indicating homeowners are having a slightly easier time handling their mortgages.
People who want to buy homes, however, are still having a hard time qualifying for a mortgage, and therein lies the rub. Until more buyers move into the market, sales will remain soft and so will prices.
Fed to the rescue?
William C. Dudley, President of the Federal Reserve Bank of New York, thinks addressing problems in the housing market is the best way to stimulate the economic recovery. In a speech at the U.S. Military Academy at West Point, N.Y. this week, Dudley said there are things the Fed can do to help.
"One significant problem is the trajectory of home prices," Dudley said. "Homeowners have lost more than $6,000 billion in home equity since the housing market turned. For homeowners with mortgage debt, about one-quarter of these homeowners have mortgage debt that exceeds the value of their homes. The loss of home equity is a serious problem in itself of course, but it has been exacerbated by the fact that many households have found it very difficult to refinance to take advantage of lower mortgage rates."
Without an improvement in the ability to refinance, Dudley says the outlook for real estate prices is not promising.
When it cut interest rates effectively to zero in late 2008, the Fed helped the nations banks get back on their feet. But that help to the banks has not been passed on to home buyers and sellers.
Dudley said he believes the Fed could help the real estate market by announcing its commitment to keep interest rates low and by purchasing mortgage backed securities.
"This would have a greater direct impact on the housing market and would be less likely to disrupt market functioning compared with further purchases in the Treasury market," Dudley said.
Interest rates don't seem to be the problem
But mortgage rates are already near historic lows. The problem, says National Association of Realtors chief economist Lawrence Yun, is homeowners can't meet lender new higher standards.
While "less awful" housing statistic are some reason for optimism, perhaps the most encouraging thing for the housing market is a growing sense among policymakers that it remains the key to economic recovery.
At the 2011 Realtors Conference & Expo last weekend, political leaders agreed that the struggling housing market needs to be a priority on the nation's public policy agenda. The message appeared to be a bipartisan one.
"A healthy housing industry helps everyone in the country,: said Rep. Gary Miller (R-CA). "The housing market has led this nation out of every downturn we've had in the past."
The sentiment was echoed by California's Democratic governor, Jerry Brown. He told attendees that while it's important for consumers to live within their means it also critical that they invest in their futures, and one important way is through homeownership. He also said there needs to be more help for underwater homeowners through refinancing their mortgages or reducing their debt burden.
"The nation needs to have restored confidence in the housing market and economy," Brown said.
---