---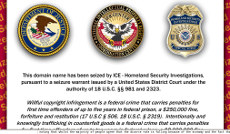 The FBI and other federal agencies marked the kick-off the holiday shopping season by seizing 150 Website domain names allegedly used to sell counterfeit merchandise.
"For most, the holidays represent a season of good will and giving, but for these criminals, it's the season to lure in unsuspecting holiday shoppers," said Immigration and Customers Enforcement (ICE) Director John Morton. "More and more Americans are doing their holiday shopping online, and they may not realize that purchasing counterfeit goods results in American jobs lost, American business profits stolen and American consumers receiving substandard products."
Money gained through the scams is often used to finance other criminal activities, Morton said.
"Through this operation we are aggressively targeting those who are selling counterfeit goods for their own personal gain while costing our economy much-needed revenue and jobs," said Attorney General Eric Holder. "Intellectual property crimes harm businesses and consumers, alike, threatening economic opportunity and financial stability, and today we have sent a clear message that the Department will remain ever vigilant in protecting the public's economic welfare and public safety through robust intellectual property enforcement."
The 150 domain name seizures represent a more than 80 percent increase over the 82 websites that were seized during last year's Cyber Monday-related operation.
The 150 seized domains are in the custody of the federal government. Visitors to these websites will now find a seizure banner that notifies them that the domain name has been seized by federal authorities and warns them that willful copyright infringement is a federal crime.
During the operation, federal law enforcement agents made undercover purchases of a host of products, including professional sports jerseys, golf equipment, DVD sets, footwear, handbags and sunglasses, representing a variety of trademarks from online retailers who were suspected of selling counterfeit products.
In most cases, the goods were shipped directly into the United States from suppliers in other countries. If the trademark holders confirmed that the purchased products were counterfeit or otherwise illegal, seizure orders for the domain names of the websites that sold the goods were obtained from federal magistrate judges.
Since the operation's June 2010 launch, officials have seized a total of 350 domain names, and the seizure banner has received more than 77 million individual views.
Of the 350 domain names seized, 116 have now been forfeited to the U.S. government. The federal forfeiture process affords individuals who have an interest in the seized domain names a period of time after the "Notice of Seizure" to file a petition with a federal court and additional time after the "Notice of Forfeiture" to contest the forfeiture. If no petitions or claims are filed, the domain names become property of the U.S. government.
Additionally, a public service announcement (PSA), launched in April 2011, appears on each of the 114 forfeited domain names. This video educates the public about the economic impact of trademark counterfeiting and copyright infringement.
Previous website seizures include:
---