---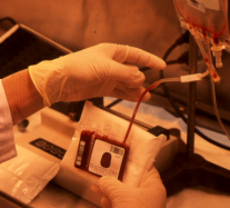 The U.S. Food & Drug Administration has announced its approval for HEMACORD, the first product made from blood harvested from the umbilical cords of newborn infants.
The product is intended for use in stem cell transplantation procedures in patients with disorders affecting the blood-forming (hematopoietic) system.
For example, cord blood transplants have been used to treat patients with certain blood cancers and some inherited metabolic and immune system disorders.
"The use of cord blood hematopoietic progenitor cell therapy offers potentially life-saving treatment options for patients with these types of disorders," said Karen Midthun, M.D., director, FDA's Center for Biologics Evaluation and Research.
HEMACORD is produced by the New York Blood Center.
"We are thrilled to be the first public cord blood bank with an FDA-licensed product for transplantation," said Christopher D. Hillyer, MD, President and CEO of New York Blood Center (NYBC).
Cord blood
After a baby is born and the umbilical cord is cut, some blood remains in the blood vessels of the placenta and the portion of the umbilical cord that remains attached to it. After birth, the baby no longer needs this extra blood. This blood is called placental blood or umbilical cord blood: "cord blood" for short, the NYBC explains on its Web site.
Cord blood contains all the normal elements of blood -- red blood cells, white blood cells, platelets and plasma. But it is also rich in blood-forming stem cells, similar to those found in bone marrow. This is why cord blood can be used for transplantation as an alternative to bone marrow.
More than 80 different diseases have been treated to date with unrelated cord blood transplants, including various forms of leukemia, lymphoma, Sickle cell disease and certain malignancies.
Since 1996, NYBC's National Cord Blood Program (NCBP) at the Howard P. Milstein National Cord Blood Center has provided cord blood units for transplantation under an Investigational New Drug (IND) exemption from the FDA. The mission of the NCBP is to facilitate access to cord blood as a treatment option for patients, notably those from diverse ethnic backgrounds.
HEMACORD contains hematopoietic progenitor cells (HPCs) from human cord blood. Cord blood is one of three sources of HPCs used in transplants; the other two are bone marrow and peripheral blood.
Once these HPCs are infused into patients, the cells migrate to the bone marrow where they divide and mature. When the mature cells move into the bloodstream they can partially or fully restore the number and function of many blood cells, including immune function.
HEMACORD has a boxed warning regarding the risks of Graft Versus Host Disease (GVHD), engraftment syndrome, graft failure, and infusion reactions, each of which may be fatal. Patients who receive Hemacord should be monitored carefully.
A risk-benefit assessment, unit selection and administration of Hemacord should be done under the direction of a physician experienced in hematopoietic stem cell transplantation.
To obtain FDA licensure of HEMACORD, all collection and manufacturing conditions of the cord blood units met FDA standards for product potency, purity and efficacy, and patient safety. Its application included the safety data from the transplantation of more than 4,000 cord blood grafts.
In advance of the BLA submission, NCBP moved its entire manufacturing and storage resources to a state-of-the-art facility in Long Island City, New York.
---