---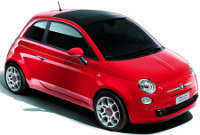 The Fiat 500 is certainly an odd-looking little car, but that's OK.  Lots of other cars are kind of weird-looking today.  But just how well Fiat's return to the U.S. after a 30-year absence is going ... well, that's a little hard to judge just now. 
Fiat continues to insist that things are just purring along but reports from auto industry insiders might make one wonder about that.  The United auto Workers Union says Chrysler has suspended production of the 1.4-liter engine that powers the U.S. version of the 500.
Automotive News reported that Fiat has a 184-day supply of the Fiat 500 coupes and cabrios but the trade paper said a Chrysler spokesman disputed that and said the company had a 140-day supply at the end of October and was "very pleased" with sales progress to date.
Reports say some dealers have sold as few as 49 cars since opening in March while others have sold as many as 370.  Sales are said to be strongest in California and the Southeast, and weakest in the Midwest.
CEO Sergio Marchionne had initially predicted annual sales of the Fiat 500 in North America of 50,000 units but through October, Fiat sold just 15,826 units of the 500 in the United States, Automotive News said.
Abarth debut
Fiat is hoping that this week's unveiling of the Fiat 500 Abarth at the Los Angeles auto show will arouse new passions in potential Fiat owners.  The Abarth features a turbocharged 160-hp version of the 1.4-liter.
Southern Californians can get the first look at the Abarth at the 2011 Los Angeles Auto Show  November 18-27.
The 500 Abarth will be powered by a turbocharged 1.4-liter engine and will, as you'd expect, feature a stiffened suspension and upgraded brakes, FiatOwner.org reported. Exact U.S. specs aren't yet known but the European version churns out 135 horsepower with 221 pound-feet or torque — a massive amount of torque for such a small car.
---