---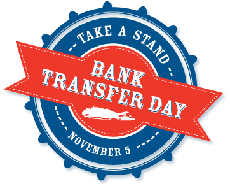 As consumers revolted against the idea of paying a fee for the privilege of using a debit card, big banks retreated and, it appears, the nation's credit unions have reaped the benefits.
The Credit Union National Association (CUNA), a trade group, says at least 650,000 consumers have joined credit unions in the past four weeks, since Bank of America announced it would impose a monthly $5 fee on customers who made purchases with their debit cards.
Reaction was so strongly negative that other big banks considering a similar move announced they would not impose the fee. Earlier this week, Bank of America also capitulated, announcing it would not impose the fee after all.
$4.5 billion in new savings accounts
CUNA estimates that credit unions have added $4.5 billion in new savings accounts in the last month. More than four in every five credit unions experiencing growth since Sept. 29 attributed the growth to consumer reaction to new fees imposed by banks, or a combination of consumer reactions to the new bank fees plus the social media-inspired Bank Transfer Day. Bank Transfer Day, which is tomorrow, urges consumers to switch from big banks to smaller credit unions and community banks.
Pete, of Elk Grove Village, Ill., has accounts at both Chase Bank and a credit union. Saying his Chase credit card lowers his credit limit on a regular basis, he says he sees no reason to keep two accounts.
"The Credit Union treats me the best," Pete told ConsumerAffairs.com. "I recommend that eveyone move to a credit union for great service. I will be dropping Chase when the card is paid off."
And it's not just the big banks that are drawing consumer anger. Noreese, of Lockport, Ill., says she has been a customer of TCF Bank for 15 years but is fed up with what she says are excessive overdraft fees.
"I will be closing my account and going with my local credit union," Noreese said.
Savings promised
"The results indicate that consumers are clearly making a smarter choice by moving to credit unions where, on average, they will save about $70 a year in fewer or no fees, lower rates on loans and higher return on savings," said CUNA President/CEO Bill Cheney.

Cheney cited studies he says have shown people living paycheck to paycheck save even more at a credit union than the average financial institution customer, as they use more credit union services.
No stockholders
Why do credit unions have fewer and smaller fees than major banks? A lot has to do with the way they are organized. Banks are corporations that try to maximize profits from shareholders. That often means squeezing customers.
A credit union is a non-profit membership association. That means its "customers" are really "members." While they have many of the same costs as banks, they don't pay out a profit to shareholders.
As consumer anger built around the debit card fees, credit unions were quick to market their services to the big banks' disaffected customers. According to Cheney, they have increased advertising, sent "switch kits" to existing members to share with family members or other prospective members, beefed up websites, extended hours and staffing for Bank Transfer Day, performed e-mail blasts to members, and maximized social media campaigns.
---