---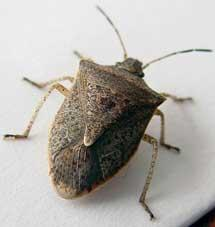 Frustrated by its inability to balance the budget or take even the slightest bite out of the deficit, Congress is trying to stomp out the lowly stink bug, which has been an even bigger pest than the ever-encroaching federal government along the East Coast the last few years.
The little brown bugs, which slipped through border security checkpoints by hiding on incoming ships, are being compared by some to a plague of locusts.
When attacked, they -- the bugs, not Congress -- adopt the strategy used so successfully by skunks: they emit a foul and noxious odor. Consumer tip: We have found that gently cradling a stink bug or two in a tissue lulls them into a false sense of security. They can then be washed down the nearest drain or, even better, garbage grinder.
The ugly ducklings of the insect kingdom seem to be everywhere. They pop out when least expected and have an odd ability to magically conceal themselves in sealed envelopes, locked cabinets and airtight storage bins.
But, although it hasn't had much luck dealing with other aspects of immigration, Congress is hot on the trail of the stink bugs.
Language included in the package of annual spending bills recently approved in the House will make fighting the brown marmorated stink bug, to use its proper name, a greater priority for the Department of Agriculture (USDA), according to Rep. Frank Wolf (R-Va.).
Wolf said the legislation signed into law on November 18, includes new directives for USDA's four research agencies to identify and develop effective stink bug control methods.
Another key provision instructs the USDA to "work collaboratively with state partners" to identify and implement controls for the stink bug invasion. That right there should have the little brown buggers quaking in their shells.
Dealing with stink bugs has been a priority for Wolf. He held a forum in Purcellville, Va., in April at which scientists and experts shared ideas for control methods with local farmers and growers. The meeting drew 200 people.
"I've seen first-hand the damage that stink bugs are causing to local fruit and vegetable growers and we have to do something to mitigate the economic damage caused by these pests," said Wolf.
More information on stink bugs including best practices for mitigating their damage is available on Wolf's Web site at wolf.house.gov/stinkbugs.
---