---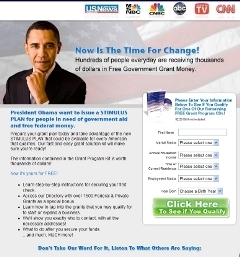 With their photos of President Obama and the American flag, Grant Connect's ads were convincing in their claim that everyday Americans could reap millions of dollars in free government grants.
All it took was a small charge to the consumer's credit card and the invaluable, can't-miss, sure-thing information would be on its way.
The Federal Trade Commission yesterday won a $29.8 million judgment against the remaining defendants behind the deceptive scheme. An earlier order slapped a similar settlement on other defendants.
The court's order also permanently bans the defendants from promoting a variety of products and services similar to those they deceptively pitched to consumers around the country.
The FTC charged the defendants with deceiving consumers by making misleading and unsubstantiated claims about bogus products and services, including one that supposedly would help them get free government grants.
The U.S. District Court for the District of Nevada found that the defendants marketed their grant products, including Grant Connect, using pictures of President Obama and the American flag to bolster the impression that billions of dollars in free government grants were available quickly and easily for personal needs.
Other fine products
The court also found that the defendants:
1) deceptively marketed dietary supplements using claims unsupported by scientific research;
2) failed to adequately disclose that their credit offers were merely memberships to a shopping club;
3) made unsupported claims that consumers could earn thousands of dollars per month with a work-from-home business opportunity;
4) failed to adequately disclose that consumers who bought their products or services would be enrolled in continuity plans with significant monthly fees, often for a variety of unrelated products;
5) used fake testimonials to promote their products; and
6) debited consumers' bank accounts on a recurring basis without obtaining consumers' permission.

The latest court order announced today bans the remaining defendants from marketing or selling:
grant-related products and services;
credit-related products;
work-from-home and business opportunities; and
dietary supplements and nutraceuticals.
It also bans the defendants from using:
continuity programs and negative option marketing, in which consumers have to opt out of receiving products to prevent being charged on a recurring basis;
testimonials in connection with any product or service; and
preauthorized electronic fund transfers that charge consumers' debit accounts.
The court order announced today grants the FTC's motion for summary judgment against defendants Kyle Kimoto; Michael Henriksen; Steven R. Henriksen; Tasha Jn Paul; Rachel A. Cook; James J. Gray; Randy D. O'Connell; Acai, Inc.; Allclear Communications, Inc.; Consolidated Merchant Solutions, LLC; Dragon Group, Inc.; Elite Benefits, Inc.; Global Fulfillment, Inc.; Global Gold, Inc.; Global Gold Limited; Grant Connect, LLC; Healthy Allure, Inc.; Horizon Holdings, LLC; MSC Online, Inc.; O'Connell Gray, LLC; OS Marketing Group, LLC; Paid To Process, Inc.; Premier Plus Member, Inc.; Total Health, Inc.; and Vcomm, Inc.
Earlier this year, the FTC settled similar charges against several other defendants in the case. Under those settlements, Juliette Kimoto, Johnnie Smith, and four companies Kimoto owned were barred from marketing certain products and services similar to those that they allegedly offered to consumers. The settlements also imposed a $29.8 million judgment against them that was partially suspended.
---