---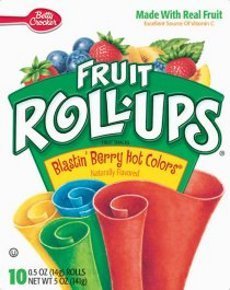 A class action lawsuit says there's something missing from General Mills' Fruit Roll-Ups, Fruit by the Foot and Fruit Gushers. What do you think it is?
That's right. It's fruit. There basically isn't any, the suit charges.
The lawsuit says the so-called fruit snacks are mostly sugars (some from fruit concentrate and some from corn syrup), artificial additives, and potentially harmful artificial dyes.
While labels state that the snacks are "fruit flavored," "naturally flavored," a "good source of vitamin C," and low in calories, fat, and gluten, they're really little more than sugar, according to the lawsuit filed on behalf of a California mother by the nonprofit Center for Science in the Public Interest and the law firm Reese Richman LLP.
"General Mills is basically dressing up a very cheap candy as if it were fruit and charging a premium for it," said CSPI litigation director Steve Gardner. "General Mills is giving consumers the false impression that these products are somehow more wholesome, and charging more. It's an elaborate hoax on parents who are trying to do right by their kids."
Citing an example, the suit charges that Strawberry Fruit Roll-Ups are made from pears from concentrate, corn syrup, dried corn syrup, sugar, partially hydrogenated cottonseed oil, citric acid, acetylated monoglycerides, fruit pectin, dextrose, malic acid, Vitamin C (ascorbic acid), unspecified "natural flavor," and Red 40, Yellow 5, Yellow 6, and Blue 1.
No fiber
Even with the pear ingredient, the product provides little of the beneficial fiber or nutrients associated with real strawberries, the suit alleges. While labels tout the naturalness of the added flavorings, CSPI says that many of the ingredients are artificial by anyone's definition, including the partially hydrogenated cottonseed oil and the acetylated monoglycerides.
The side panels on some General Mills "fruit" candies read "Made With Real Fruit." At least one variety of Fruit Roll-Ups has pictures of strawberries and oranges on the box. But despite the names of the products, there are no strawberries in Strawberry Fruit Roll-Ups, nor watermelon in Fruit Gushers Watermelon Blast, according to the suit.
The bright colors of those products come from synthetic, petroleum-based dyes that can impair some children's behavior, CSPI said.
"Defendant is conveying an overall message of a healthful snack product to parents when, in fact, the Products contain dangerous, non-nutritious, unhealthy partially hydrogenated oil, large amounts of sugar, and potentially harmful artificial dyes," the complaint states.
---