---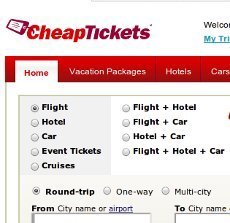 Mysterious unauthorized charges on your credit card bill can be infuriating, and they usually require some effort to get them removed. Don, of Denver, recently avoided one, but just barely.
"I got an email from my credit card company indicating that CheapTickets.com tried to charge my card $6.99," Don told ConsumerAffairs.com. "I never authorized such a charge, and when I called Cheaptickets for an explanation, and how they got my card number, they refused to answer my questions, and evenutally they hung up on me. I never made a purchase on their site, nor even attempted to do so."
This is how a situation like this could have happened: Cheaptickets.com most likely had a third-party marketing arrangement with another company, allowing them to market to that company's customers at the end of a transaction. While the law makes clear that these offers must carrying "clear and conspicuous terms," many don't. And consumers would likely overlook them if they did.
In Don's case, he probably had just finished a transaction with Company A, in which he had used his credit card. When a pop-up "free" offer from a company like CheapTickets.com came along, he had no reason to believe that company could charge his credit card. What he didn't know is that third party marketing agreement gives CheapTickets access to Don's credit card information that he gave to Company A. Don didn't mention who his credit card company is but they deserve a shout-out for catching this before it happened.
No changes
Online travel booking sites have been around for more than ten years but some consumers still don't understand how they work. For example, RB, of Salt Lake City, Utah., was confused and angry when she couldn't change a reservation
"I rented a car through Priceline for a trip to Tennessee," RB said. "My work schedule changed and I could not travel on the original dates, so I called to see if the car rental company could change the reservation. They told me I would have to contact Priceline. I called Priceline and supposedly spoke with a supervisor. They refused to help as well. They said there is no way to change or delete a reservation."
Sorry, RB. This is pretty much standard operating procedure. In exchange for a discount, you give up the right to cancel or modify your reservation. Thats why, if you think your plans are subject to change, you should always book directly with the hotel, airline or rental car company.
Slow response
Mogli, of Glennwood Springs, Colo., has a somewhat unusual problem. He paid off the first lien on his Washington Mutual mortgage in 2002 but in the almost decade since, has not been able to obtain a release.
"The title company that paid off the mortgage has been trying to obtain a release for a first lien DOT since January 28, 2002, almost ten years," Mogli told ConsumerAffairs.com. "To date we have not received a release from Chase, even though they submitted plenty of proof of payment in full on January 28, 2002. Back then it was Washington Mutual. What to do?"
This sounds like a tough one because a lot of years have passed and the original company has been sold. But if Mogli still has his loan account number, he should try contacting Chase Mortgage, which acquired Washington Mutual, and request a copy of his last loan statement. That document should show a zero balance, which might convince someone at Chase to send out the release. Mogli needs to clear this up before he can refinance his property.
---