---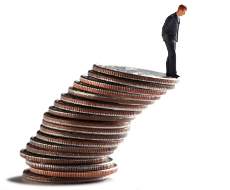 Economists tell us that the cost of living hasn't gone up that much, in the form of inflation, over the last three years. So why, for millions of consumers, does it feel like they are constantly falling behind?
A study that examined living standards in Washington state provides some interesting clues. It shows that two areas in particular, healthcare and housing, are putting consumers in the hole.
A University of Washington (UW) research group examined the bare-bones expenses for a single parent with one preschooler and one school-age child living in Seattle and found it needs an annual income of $56,904 – up 13 percent from $50,268 two years ago – to meet the family's most basic requirements.
A similar family living in Spokane County needs $41,750, up 8 percent from $38,562 two years ago.
Families are getting squeezed
"Even as wages have stagnated and unemployment doubled during the Great Recession, the cost of meeting basic needs has continued to rise, putting an economic squeeze on families who are struggling to survive in this difficult economy," said Diana Pearce, author of the report and director of the Center for Women's Welfare at the UW School of Social Work.
Pearce says that the increase in costs were not due to inflation and occurred even as wages stagnated.
"Even though many people are working hard, they still can't make ends meet, and these cost increases make it even harder," she said.
Of all costs, health care increased the most since 2009, with a 12 percent average increase across the state. Housing costs showed the second-highest percentage increase, up an average of 10 percent from 2009 to 2011. However, some urban counties had substantially greater housing cost increases.
Why is housing going up?
But wait, how could housing costs be going up when home prices in most parts of the country are still falling, or at best holding their own? True, but when home sales down nearly everywhere, more people are renting, and rents are not going down.
"Falling house values has not translated into falling rents for most households," Pearce said. "Of course, for families subsisting at this basic needs level, buying a house is rarely an option, and indeed some families may have experienced bank foreclosure on their homes, resulting in their coming into a rental market where rents are rising."
In many markets now, the cost of a monthly mortgage, including tax and insurance, is significantly lower than the cost to recent the same home. But with tighter lending standards, fewer people can qualify for mortgages.
Self-sufficiency standard
The self-sufficiency standard, created by Pearce and used in 37 states and the cities of New York and Washington, D.C., differs from the federal poverty level because the standard factors in geography as well as family composition. The federal poverty level – the most commonly used income benchmark for determining public assistance – considers three-person families poor if they make $18,530 or less each year, whether they live in New York City or rural Mississippi.
"The federal poverty level is outdated, inadequate and vastly underestimates what it actually costs for American families to get by," Pearce said. "It was designed almost a half century ago, when food was a bigger portion of the family budget and child care was rarely a cost," she said.
---