---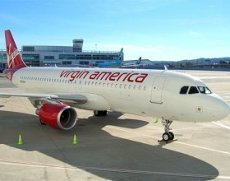 It's hard to find a more luxurious airline than Virgin America -- spiffy cabins, mood lighting, elaborate entertainment systems, on-demand snacks and food, friendly flight attendants.
But while those friendly flight attendants appear to enjoy their work much more than their seemingly embittered colleagues on legacy carriers, the Transport Workers Union (TWU) says an "overwhelming majority" of them have signed a petition seeking a representation election.
The union is expected to ask the National Mediation Board (NMB), which oversees labor relations in the airline and railroad industries, to schedule an election.
"Flying Virgin can be enjoyable for passengers but flight attendants have a very different experience," TWU Organizing Director Frank MacCann said. "Work rules are inconsistently enforced, promises regarding rest, vacation and benefits are often broken, and discipline for minor violations can be unnecessarily harsh and inconsistently applied."
"It's become difficult for flight attendants, who helped build this company, to believe what management tells them. Flight attendants realize that the only way they can improve their working conditions is to form a union," MacCann said.
Entirely nonunion
Virgin America is currently entirely nonunion. The fast-growing discount carrier flies to about a dozen cities in the U.S. and three in Mexico. It operates a fleet of 46 Airbus A320 airplanes and is partly owned by Richard Branson's Virgin Group of the U.K.
Flight attendants at Branson's Virgin Atlantic Airlines and subsidiary Virgin Australia have voted to form unions with British and Australian labor unions, TWU noted.
The NMB recently adopted new rules that, in theory, make it easier to unionize. The new rules require a "yes" vote by only a majority of those voting. Previous rules required a "yes" vote by a majority of the entire work group.
The change didn't help the Air Line Pilots Association organize JetBlue pilots though. ALPA lost a recent representation election at JetBlue.
The TWU already represents the flight attendants at Southwest and Allegiant Airlines.
---