---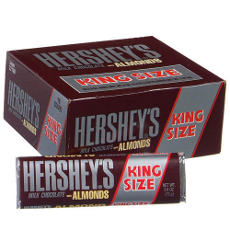 It had to come to this. First it was super-sized burgers and fries, then Starbucks' Trenta. Now it's the king-sized candy bar that's flying off the shelves (and onto customers' hips but that's another story).
Yep. Hot from Hershey, Pa., comes news that sales of king-sized Hershey bars are up about 18%. Not only that, but Hershey says it is the kind-size leader with a 54% share of the market for bigger bars.
"King-size conversion has progressed nicely due to merchandising, continued distribution gains, innovation and consumer recognition that this is a good price/value proposition," said Hershey Chief Executive John Bilbrey.
Yes, and also because they're really big candy bars.
It's not just candy bars that are making the cash register ring, though. Bilbrey is also smiling over sales of Reese's Minis king-size. It's hard to see how Minis can be king-size but Bilbrey must know. After all, he's the candy man.
If you lie awake nights wondering what's in the candy pipeline, Bilbrey told market analysts that he expects to "launch some close-end line extensions that will bring variety and excitement to some existing brands including Hershey's Drops, Cookies 'n' Cream at a king-size pack price, Hershey's Pieces Milk Chocolate with Almonds, and Jolly Rancher Crunch 'N Chew," according to trade papers.
Besides helping build Hershey's bottom line, the new king-sized bars should also help build consumers' bottoms, as they rationalize that it is, after all, just a single candy bar.
---