---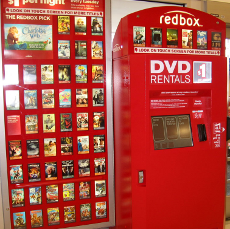 Netflix took it on the chin when it tried to raise its subscription fees to cover the cost of streaming more recent movies. Bank of America was villified when it imposed a $5 monthly charge on debit cards.
So what will happen now that Coinstar is raising the price of DVD rentals at its Redbox kiosks from $1 a day to $1.20 a day, effective on Halloween, Oct. 31?
Good question. It's only 20 cents but somehow $1.20 sounds a lot higher than $1. Even so, it doesn't seem likely that protesters will be picketing their local Redbox dispenser.
In its defense, Coinstar says it's the first time in eight years that Redbox has raised its daily DVD rental price. Blu-ray discs and video games will stay at their current daily rental rates of $1.50 per day for Blu-ray and $2 a day for games.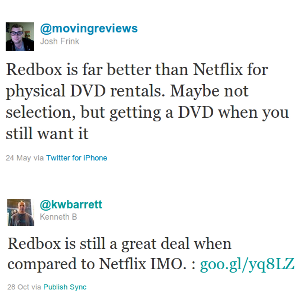 And what's to blame for this price increase? Well, it's certainly not streaming fees, since you have to lug the DVD home yourself and bring it back the next day.
Coinstar blames the price hike on higher debit card fees, among other things.
But didn't Congress force banks to lower the transaction fees merchants pay on debit cards?
The answer, as is so often the case with anything involving Congress, is yes and no.
The card swipe fee "reform" pushed through Congress by Sen. Dick Durbin (D-Ill.) does indeed put a cap on the fees banks charge to process most debit card transactions. But it substantially raises fees on small transactions -- and $1 is pretty small by any measure.
Consumer sentiment
So how are consumers feeling about Redbox these days? We analyzed about 350,000 consumer comments on Twitter, Facebook and other social media and found that, by and large, folks are feeling kind of grumpy.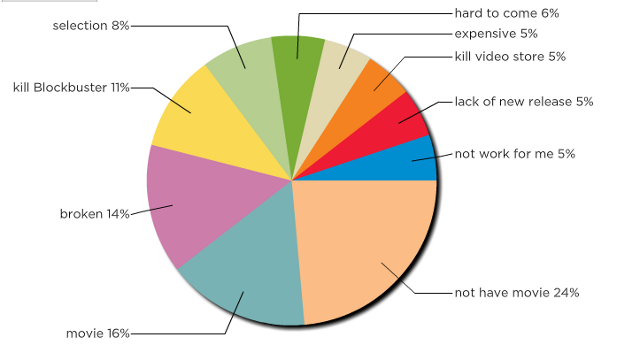 Although Redbox business appears to be booming, the fact that folks pony up $1 doesn't necessarily mean they're happy. Fully 24% are peeved that the big red box didn't have the movie they wanted. Of course, this is what Netflix was trying to fix when it rejiggered its fees, only to be villified by its customers.
Another 16% don't like the movie they rented, which is hardly Redbox's fault. Interestingly, about 16% are peeved because they blame Redbox for killing off Blockbuster and other video stores.
In terms of overall consumer sentiment, Redbox is about where it ws a year ago -- with a net positive sentiment of about 49%, not bad compared to Netflix, which was hovering around 25% positive last time we checked. That's way down from its year-ago 60% positive rating.

Redbox enjoyed a brief spurt of positive sentiment in March, when it new suite of online and mobile tools that make it easier to find specific games and movies.
Each fully-automated redbox kiosk holds 630 discs, representing up to 200 titles. Consumers simply use a touch screen to select their favorite movies, swipe a valid credit or debit card and go. To find the nearest redbox location, consumers can visit www.redbox.com or text 'redbox' to 50101 from a mobile phone, the company said back in February.
---
Sentiment analysis powered by Netbase
---