---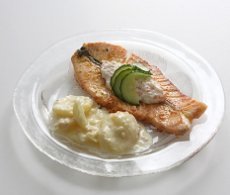 You love the kind of food you get at restaurants, but with the economy the way it is, your food budget has seriously curtailed your dining out.
This dilemma for a growing number of consumers has created opportunities for food producers, who have shifted gears in recent years to produce restaurant-style food products consumers can prepare at home.
Pop-up toaster hamburgers, microwaveable cans, sauces and spreads that turn everyday sandwiches into gourmet restaurant-style meals are currently just some of the trends that are sweeping the food marketing arena. Elizabeth Sloan, writing in Food Technology magazine, says the craving for restaurant-style food is driving the newest products and, despite a lagging economy, sales of food and beverage products are projected to reach $1.74 trillion by 2015.
Ready-made meals
It's not just taste that is driving this trend. With more than half of woman in developed countries feeling squeezed for time while holding a job and caring for their families, food products that make meal preparation easier and faster continue to grow in demand.
Burgers that you can heat in a toaster along with spaghetti Bolognese that can be microwaved in its own can are just two common examples of foods that are becoming popular in the UK and Europe.
Dried spice blends that double as measuring cups, marinades/stocks sold in six-pack tubes and cooking sauce pouches are designed to make cooking easy without the mess and keep food and seasoning fresh longer.
Some products allow home cooks to make easy additions such as pastry toppings for a pie or noodle base to create a meal that is their own. In addition to regular home-style cooking, the fresh and organic options are also becoming more popular when it comes to ready-made options. Sandwich fillers, sauces and spreads also turn ordinary sandwiches into gourmet, restaurant-style meals.
The main course
Whereas chicken used to be the top choice for a dinner or lunch protein in the low-fat and calorie category, fish is gaining popularity fast from the US to China. Fish from specific regions such as the Tasmanian Salmon and less-know individual species such as the Blue-Eyed Cod are also getting more attention. A new twist for breaded fish (and chicken too) is to include a layer of vegetables under the crust. Toppings crusts of herbs, spices, and different size crumbs are also becoming popular for fish, chicken and beef dishes.
In addition to proteins served at meals, carbohydrates are also getting an upgrade. Traditional sauces for pasta such as carbonara and Bolognese are being ousted by more sophisticated and worldly sauces like arrabiata, boscaiola, and puttanesca.
New pasta styles are also making an appearance like orechiette and panzerotto, upstaging classics like penne and spaghetti. Sides like potatoes are going healthy with cholesterol-free fried potato sides like Israel' Bisball Crispy Mashed Potato Balls with Vegetables. Gluten, lactose, and cholesterol-free waffle fries in Finland are among the exciting international potato trends.
Favorites
Italian, closely followed by Indian were the two most popular ethnic flavors among global products in 2010. Indian flavors like tikka, jalfrezi, masala and korma variations are appearing in snack, soup and ready-made products worldwide. In addition, ethnic flavor descriptors are becoming more specific.
Instead of a product touting the Indian food flavor description of "curry", it's now becoming more specific to the different kinds of curry available, like masala or korma, (one spicier than the other).
More tropical flavors and "super fruits" are also becoming more popular among today's consumers. Coconut, mango, and mandarin and veggie/fruit combo flavors are gaining recognition along with less known berries like gooseberry, cloudberry and loganberry. Colorful and edible flower petals are also being added to bagged salad mixes to add aromatic components to foods. Extreme seasonings like McCormick's Screamer Buffalo Wings Seasoning Mix along with fusion sauces that join two or more cuisines are also appearing more on shelves.
Healthful helpings
When it comes to snacking, healthier snack bars are on the rise. Especially if they incorporate ingredients like super fruit fusions, yogurt, dark chocolate, real fruit pieces, and multiple nuts, seeds and grains to add flavor and function.
Among consumers top 10 global health issues, avoiding cancer, maintaining mental sharpness and heart health are all influencing what kind of products they buy. Fortifying kids food are also becoming a trend. Samyang's in South Korea has created a product called Our Kid Wellbeing Cookie Mix which is fortified with nine vitamins and calcium.
Sugar-free diet coffees, special energizing breakfast coffees and coffees flavored with Asian ginger, mocha or chocolate are also up and coming trends. Green tea with more than the normal number of antioxidants and Lassi, a traditional Indian dairy drink is gaining popularity.
---