---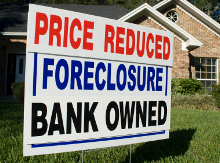 The Obama Administration this week is reportedly set to announce a new plan to help struggling homeowners modify their mortgages. Sound familiar?
It should. The administration launched the Making Home Affordable (HAMP) program soon after taking office, but it never got close to meeting expectations. The repackaged programs that have followed it haven't done that much better.
According to Amherst Securities Group, nearly one in five U.S. homeowners could eventually default on their mortgage unless Congress adopts new policies to prevent it. Amherst senior marketing director Laurie Goodman testified before Congress recently that approximately 10.4 million homeowners out of 55 million who currently have mortgages are likely to default and lose their homes in the next few years. The number is more than double the current number of home loans in default, 4.5 million.
Foreclosures have more causes now
While early foreclosures were caused by subprime mortgages – on homes the buyers really couldn't afford in the first place - resetting to sharply higher rates, with completely unaffordable payments. Next came a 9.1 percent unemployment rate, with the newly unemployed unable to make mortgage payments.
Mortgage modification programs were designed to help qualified homeowners negotiate lower payments, but from the beginning, homeowners complained that loan servicers dragged their feet, lost paperwork and provided wrong information. The result that many homes that might have been saved went to foreclosure.
Then, there are the cases like Micheal's, of Society Hill, S.C., that sounds like it should never have fallen into the foreclosure category. Micheal says that eight years ago he and his wife purchased a mobile home for $1200 down and $325 a month and made payments on a 12 year note.
Losing home over insurance policy
He said Vanderbilt Mortgage purchased his mortgage and sent him a letter informing him he must have insurance on his mobile home and offering a policy. But Michael said he and his wife already had an insurance policy on their home.
"We never, and I mean never, ever let our mobile home insurance lapse," Michael told ConsumerAffairs.com. "The company we bought insurance from was local and charged us about $600 for the entire year. We called Vanderbilt and explained that we had insurance and we never let it lapse. The Vanderbilt customer service department did not respond and added the payments to our $325 which was well over $400."
Michael said his local insurance agent faxed a copy of his current policy to Vanderbilt, but the fax was never acknowledged. Michael said Vanderbilt told him he must but their more expensive insurance policy or lose their home.
"We only had four more years left and our home that we worked so hard for would have been paid off," Michael said. "Long story short Vanderbilt came and took the home and sold to a buyer at the beach. We are now homeless, even after paying over $31,000 on a trailer that was six years old when we bought it."
Especially tragic
While all foreclosures are tragic, this one appears especially so. With some support, and maybe some legal advice, Michael and his wife should have been able to hold onto the home for which they were making regular, on-time payments. There may have been no place in his community to turn for help, and by the time Michael contacted ConsumerAffairs.com, he had already lost his house.
All of this makes at least one member of Congress very, very angry. As he announced his retirement from Congress earlier this month, Rep. Dennis Cardoza (D-CA) issued a scathing indictment of the Obama Administration's efforts to address the foreclosure crisis.
"Home foreclosures are destroying communities and crushing our economy, and the Administration's inaction is infuriating," Cardoza said.
The Administration is said to be ready to address this criticism with a new plan to assist distressed homeowners. But Bloomberg News quotes lawmakers and analysts briefed on the plan that the new effort is only expected to reach fewer than one million mortgage holders.
---