---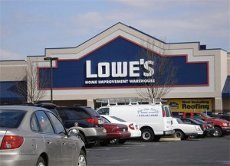 Lowes Companies, Inc., which operates home center stores nationwide, says it is closing 20 underperforming stores in 15 states. The closings will result in the loss of nearly 2,000 jobs.
Half of the 20 stores closed at the end of business Sunday. The other ten will close over the next month, the company said.
"Closing stores is never easy, given the impact on hard-working employees and local communities," said Robert A. Niblock, chairman, president and CEO. "However, we have an obligation to make tough decisions when necessary to improve profitability and strengthen our financial position."
Lowes has been a victim of the three-year and counting housing recession. Home center stores like Lowes and rival Home Depot thrive when the real estate market is doing well because more consumers are purchasing homes and making improvements.
The closed stores are in the following markets:
Los Banos, CA;
Westminster, CA;
Denver, CO;
Biddeford, ME;
Old Bridge, NJ;
Ellsworth, ME;
Batavia, NY;
Ionia, MI;
N. Kingstown, RI;
Aurora, IL;
Rogers, MN;
Emporia, VA;
Oswego, IL;
Claremont, NH;
S. Tacoma, WA;
Chalmette, LA;
Hooksett, NH;
Brown Deer, WI;
Haverhill, MA; and
Manchester, NH.
In addition, Lowes is scaling back the number of new stores is plans to open in the future. The company announced it has discontinued a number of planned new store projects and now expects to open 10 to 15 stores per year in North America from 2012 forward, compared to a prior assumption of approximately 30 stores per year. The company is on track to open approximately 25 stores in 2011, as planned.
---