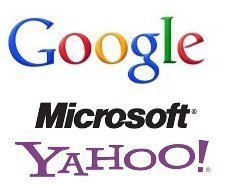 So, if you ran a phenomenally successful company that completely dominated your niche, would you tempt fate (and the antitrust regulators) by buying one of your few remaining competitors?
Of course you wouldn't.  And that's probably why you're not running Google, which is said to be weighing a bid for Yahoo, according to The Wall Street Journal.  That would put it on a collision course not only with antitrust regulators but also with Microsoft, which also is looking lustfully in Yahoo's direction.
Both suitors have been spurned before, which seems only to have increased their ardor for Yahoo, whose original claim to fame was its search engine.  That lasted about as long as it took for Larry Page and Sergei Brin to get Google tuned up and out the door.
Since then, Yahoo has been getting by more or less on its looks, evolving into a content-rich portal that until recently produced big bucks in the display (i.e., banner) advertising that eluded Google during its adolescence.  
But Google has since grown up, bought DoubleClick and is becoming a dominant player in display advertising on its own site and on its network of "partner" sites that run ads provided by Google for a share of the proceeds.
Big Daddy says no
Those able to remember back a few years may recall that in 2008, Google and Yahoo tried to link up to jointly sell search advertising only to be quickly and firmly rebuffed by the antitrust czars.  On the rebound, Yahoo fell into the arms of Microsoft, crafting a 10-year search partnership that helped launch Bing, Microsoft's answer to Google's search engine.
Google currently faces antitrust scrutiny simply because -- like an overweight passenger trying to squeeze into a seat on Southwest Airlines -- it so dominates its market that its skinnier seatmates complain they are being unfairly shoved into the aisle.
And Microsoft?  It's fashionable to think of Microsoft as a big dumb company that can't do anything right but it's worth remembering that it's as dominant in the desktop software field as Google is in online search advertising and has done what evern its severest critics say is an admirable job of making Bing into the No. 2 search engine in just a few short years.
Microsoft CEO Steve Ballmer remarked the other day that Microsoft may have been "lucky" that its 2008 bid to buy Yahoo for $47 billion fell apart.  It wasn't quite clear what he meant by that, but most observers thought he meant just what it sounds like he meant -- that he would be able to snag Yahoo this time around for a lot less, now that it's damaged goods.
Much pain, no gain
Yahoo, which recently fired its CEO, has been unable to grow its advertising business in recent years, even as the overall market has grown 20%.
It's generally thought that part of Yahoo's problem is that as a publicly-traded company, it's difficult to take the long-term view at the expense of quarterly returns.  While Google, Microsoft and the many others kicking Yahoo's tires are also public, they could presumably achieve major cost savings by eliminating duplicate layers of managers and technocrats.
Google, of course, is so successful with its keyword-driven advertising that it is constantly looking for more inventory -- more pages into which it can insert ads.  
The deal is probably worth the billions it would cost Google just to add inventory but if it also amounts to a poke in the jaw for Ballmer & Co., that would make it well worth the cost to the Messrs. Page and Brin.