---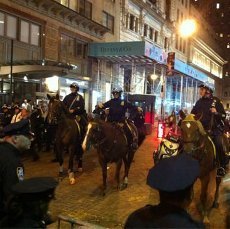 Mounted police push back protesters in Lower Manhattan. Photo: OccupyWallStreet.org
With American consumers taking to the streets to protest the sluggish economy and moribund job market, it's not a good time for politicians, big banks and major corporations to try to stay about the fray. Yet that seems to be exactly what they're doing.
Bank of America's decision to get even with Congress and its customers by slapping a $5 monthly fee on debit card users has done more damage to the bank's reputation in just a few short weeks than the agonzingly drawn-out Countrywide Mortgage fiasco.
Consumers have not sacked and burned BA branches, not yet anyway, but many thousands have said they will close their BA accounts and go elsewhere.
The question thus becomes: where can those disgruntled banking customers go to find free or reasonably-priced checking accounts that include online banking and a debit card?
The options are literally too numerous to list but we rounded up a few of the more obvious ones. Keep in mind that all banks have multiple plans that depend in great part on how much money you're willing and able to keep in your account.
If you can keep $5,000 or more on deposit, most big banks will welcome you with free or inexpensive plans. If you can't or won't do that, prepare to be charged for just about everything -- or look for a smaller bank or credit union that's hungrier for business. There are thousands of them out there, just waiting for you to come through the door.
And just to prove it, here is a tiny but representative sample of banks that offer free debit cards on at least some of their account plans. Keep in mind, plans differ by state and you must read the terms carefully. Banks have numerous plans, so be sure you know which one you're getting.
Large Banks
Local Banks
Just because we're all drowning in advertising from huge banks doesn't mean we shouldn't patronize -- or at least check out -- local banks. They often offer much better terms than the big guys and tend to provide more personal service.
Here are just a few local banks we picked at random:
Community Bank & Trust, Sheboygan, Wis., offers a free personal checking account with no minimum balance requirement, including an ATM and debit card.
Community Bank of DuPage, DuPage, Ill., offers free checking with no minimum balance. Includes free online banking and debit card.
Shore Community Bank, Toms River, N.J. It's the Jersey Shore, up close and personal. This local bank provides free regular checking with no minimum balance requirement, free online banking and free debit card. Hey, you got a problem with that?
Credit Unions
Credit unions are non-profit organizations that originally offered memberships to very specific groups -- employees of a local municipality, federal workers, etc. But these days, many credit unions have much more liberal membership standards. They are often the best source of loans, checking, credit card and savings accounts.
To find a credit union near you, visit the National Credit Union Association site. Enter your state and Zip code in the Find a Credit Union form and, chances are, you'll find one near you. You can then check eligibility requirements and look over what the CU offers.
In Burbank, California, for example, we found the UMe (you & me, get it?) Credit Union. Originally chartered to serve local school teachers, it now has about 12,000 members who live, work or worship in Burbank or attend school or belong to an organization that's headquartered there.
UMe offers free checking if you sign up for paperless statements or are 60 years of age or older. The personal checking account includes a free Visa debit card, unlimited check writing and pays interest on account balances over $2,500, as well as dog treats for your dog and bottled water for you whenever you visit a branch.
It's a big country ...
We like cable news and the Internet as much as anyone but one result of the so-called information explosion is that there is a lot more national news and chatter than there used to be and less attention to local and regional goings-on.
It's easy to sit at home in front of the tube and get riled up at Bank of America, but take a look out your back door and you'll probably find a couple of local banks and credit unions a few minutes away. Go introduce yourself and see what they'll do to win your business. You might be surprised.
---