---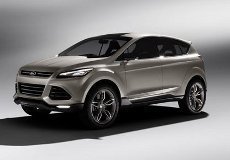 Ford is eliminating the slow-selling Escape Hybrid for the 2013 model year. It's also doing away with the V-6 engine option and will be offering the crossover with three different four-cylinder engine packages.
The Escape's hybrid powertrain will move to the C-Max Hybrid, which launches next year.
The base engine will be a naturally-aspirated 2.5-liter four-cylinder package, with 1.6 and 2.0-liter direct-injection options available. The 2.0-liter version comes with the turbocharged direct-injection EcoBoost package that's also available in the Edge and Explorer crossovers.
The 2.0-liter engine is offered in Ford's Edge and Explorer crossovers.
Automakers seem to be backing away from the "hybrid" label, which has acquired a reputation for high cost and low performance, substituting other labels and alternative fuel-saving methods.
The 1.6-liter engine in the Escape, for example, is called the EcoBoost and it's expected to deliver better highway fuel economy than the Escape Hybrid, rated at 31 miles per gallon.
The 2.0-liter four-cylinder engine ix expected to at least match if not outperform the V-6 engines now offered in the Escape.
Ford will be building the new Escape at its Louisville, Ky., plant instead of the Kansas City, Mo., plant where it's now assembled.
---