---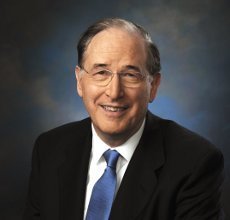 Sen. Rockefeller
Facial recognition technology is starting to spook out privacy activists as it is increasingly being used in ways no one dreamed of just a few years ago. Think Facebook tags.
Sen. John D. Rockefeller (D-W.Va.) thinks it's time for the Federal Trade Commission (FTC) to study the issue and recommend legislation to protect privacy. Rockefeller, chairman of the Senate Commerce, Science and Transportation Committee, notes the technology is being used by private firms as well as police agencies.
In a letter to the FTC, he cites mobile applications such as SceneTap, which "tracks the male/female ratio and age mix of the crowd [in bars]" and digital advertising at the Venetian Resort in Las Vegas that tailors ads to the person standing in front of the display based on recognition of that person's age and gender.
"I ask that the commission provide a report to the [committee] following the workshop, and that this report include potential legislative approaches to protect consumer privacy as this technology proliferates," Rockefeller wrote to the FTC.
The FTC is already working on updating its Children's Online Privacy Protection Act (COPPA), proposing a new rule that would broaden protections to ensure parental notification and parental approval of uploaded pictures of children.
"Given the prevalence and popularity of posting photos, videos and audio files online, the commission has reevaluated the privacy and safety implications of such practices as they pertain to children," the draft said.
Law enforcement
Meanwhile, the FBI is working to activate a nationwide facial recognition service that will be available to law enforcement authorities in select states by January 2012.
Officials will be able to upload a picture of an unknown person and receive a list of mug shots ranked in order of similarity to the features of the subject in the photo. The tool will search among the 10 million images stored in the FBI's biometric identification system for suggestions, but will not provide a direct match.
The FTC has scheduled a workshop on facial recognition technology on December 8, 2011, and said irt will report back to Rockefeller after the workshop.
---