---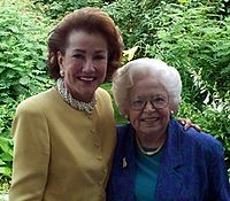 Virginia Knauer with Elizabeth Dole
I was surprised this weekend to read an obituary for Virginia Knauer, 96, consumer affairs advisor to three presidents and an early advocate of unit pricing, nutrition labeling and automobile safety and fuel efficiency.
It was Mrs. Knauer who lured me into the field of consumer advocacy and indirectly led me to found ConsumerAffairs.com nearly 12 years ago.
We had worked together at a public affairs firm in Washington in the 1980s and, although I had since lost touch with her, a former colleague told me a few years ago that Mrs. Knauer had died, so I had already assigned her to the side of the ledger marked "deceased," putting me in the company of many others who wrote her off prematurely.
Misgivings
Ralph Nader was among those who expressed misgivings about Mrs. Knauer, charging that she did not have enough authority as President Richard Nixon's consumer affairs advisor to bring about significant changes. But when Republican business leaders began complaining that she was pushing too hard, consumer advocates soft-pedaled their criticism.
An energetic, cheerful and well-coiffed Philadelphia matron, Mrs. Knauer minced no words in telling corporate executives that they could not overlook the interests of the people who bought their products. To advance her arguments, she commissioned a study that demonstrated good customer relations were more important in retaining customers than big advertising budgets.
She was an early and energetic advocate for toll-free numbers and insisted businesses should have call centers staffed by well-trained employees who could answer consumers' questions and solve their warranty and product repair issues.
Early feminist
An early feminist, Mrs. Knauer always had time to seek out promising young women and urge them to embark on business and political careers. One of her assistants in the Nixon Administration was a young lawyer named Elizabeth Hanford, who later married Sen. Bob Dole, became U.S. Transportation Secretary, U.S. Secretary of Labor and a U.S. Senator from North Carolina.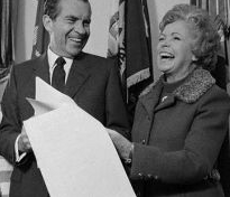 Mrs. Knauer with President Nixon Photo: Nixon Library
Mrs. Knauer -- no one dared call her Virginia -- was a graduate of the University of Pennsylvania and the Pennsylvania Academy of Fine Arts. She served on the Philadelphia City Council and headed the Pennsylvania Bureau of Consumer Protection before coming to Washington.
Besides President Nixon, she served as consumer affairs advisor to Presidents Gerald Ford and Ronald Reagan.
While in public life, she insisted that being pro-consumer didn't mean being anti-business. And when working in the private sector, she quickly informed her colleagues that being pro-business didn't mean being anti-consumer.
When she was invited to join our small public affairs firm, the Strategic Alliance Group, she quickly made it clear that there would be nothing "honorary" about her appointment and that she would personally review and approve any and all projects that bore her name.
Not anti-business
Mrs. Knauer was delighted with the ConsumerAffairs.com concept of a for-profit, advertising-supported Web site that empowered consumers and businesses to interact directly and publicly and volunteered to serve on our board of advisors which, sadly, we never got around to forming.
In what little spare time she had, Mrs. Knauer raised Doberman Pinschers and later Maine Coon Cats. Even in her later years, she was a spirited and vocal motorist who was not easily intimidated by even the most aggressive cab driver. She was also a sterling traveling companion. The best part of any out-of-town trip was dinner with Mrs. Knauer.
Unfailingly polite, energetic, incorruptible and thoroughly convinced that good consumerism was good business, Virginia Knauer was an outstanding public servant, a generous mentor and a wonderful friend.
---