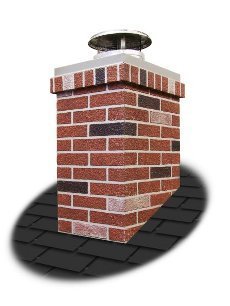 The first fall chill usually prompts homeowners with fireplaces to light a fire. It's sometimes followed by a knock at the door from a helpful chimney repairman, offering a safety inspection.
Safety inspections are all well and good, but they can sometimes be the prelude to a chimney repair scam. New Jersey Attorney General Paula Dow recently sued a chimney cleaning and repair company accused of using high-pressure, deceptive tactics to mislead consumers – including several who were elderly or had disabilities – into paying thousands of dollars for repair services they did not need.
Far from enhancing safety, a scammer who isn't properly trained might make your chimney unsafe. By performing shoddy work, for example, the untrained repairman could create the danger of carbon monoxide leaks into the house.
The dangers from a chimney are real. After years of heavy use, a fireplace may build up a thick coat of creosote, a flammable tar-like substance, lining the chimney. Sparks from a fire that float up the chimney can ignite the creosote, causing extensive damage and even completely destroying your home.
However, it takes years for dangerous levels of creosote to form. If your chimney has been cleaned in the last year or two, it is unlikely to be in need of it now.
If you have just moved into a home and are uncertain in the chimney has ever been cleaned, it's a good idea to have it cleaned and inspected before using the fireplace.
Damaged and missing bricks
Besides creosote buildup, masonry fireplaces – especially older ones – may be damaged by missing mortar or even bricks. A scammer may claim that he noticed from the street that you have such damage and offer to fix it. It's always a good idea to seek a second opinion.
"Consumers must do their homework before hiring a contractor, and they must be extra vigilant before inviting someone to work on their chimney," Thomas R. Calcagni, New Jersey's Director of the Division of Consumer Affairs, said. "The average consumer is unable to discern whether chimney repair work is truly necessary, or whether it's completed properly. Improper work can result in dangerous, even deadly, carbon monoxide leaks and fires."
Before hiring a contractor, consumers should call their local building codes office to learn whether the business is properly registered, and whether it has been the subject of previous consumer complaints.