---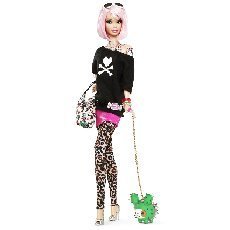 We all know that Barbie, Mattel's iconic doll, has always been on the cutting edge of fashion and trends. So, should anyone be surprised when the new Barbie sports a tattoo?
"Tokidoki Barbie" has the familiar hair style and face, but the body ink is definitely a new feature. She has exotic tattoos in several places, including her neck, shoulder and arms. WCBS-TV in New York interviewed a number of parents who definitely don't like the doll's edgy new look.
"I don't think it's appropriate for little girls to be having Barbies with tattoos all over," one parent, Reye Griffith, told the station's reporter.
But parents are probably over-worrying the issue, since it's unlikely their child will see one in advertisements. The Tokidoki Barbie is a collectible doll, which means you won't find it in the toy aisle at Toys R Us. It will sell for around $50, almost exclusively online, making it a lot more expensive than a regular Barbie.
Even so, a check of the Barbie collectors' site barbiecollector.com shows the doll is sold out. The site's description of Tokidoki Barbie says she is "always ready for cutting edge fashion."
"She pops on a pink miniskirt, logo leggings and black top with signature skull heart and bones, carries a large bag from the brand, then adds bracelets, a belt, and sky-high sparkly silvery shoes," the site says. "This funky fashionista features trendy tattoos and a pink bob. With cactus friend, Bastardino, by her side, she's ready for fun in fashion-forward form!"
The original Barbie made her American debut in 1959 and was the brainchild of Ruth Handler, who was married to one of Mattel's co-founders. Ironically, neither her husband nor the Mattel board was interested at first. Only her persistence led to the creation of what became one of the most successful products in the company's history.
---