---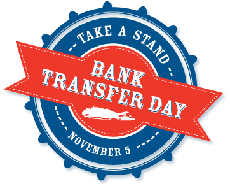 Kristin Christian, a Los Angeles businesswoman, is credited with the idea. On November 5, consumers all across the country are being urged to move their accounts from a large, "mega-bank" to a credit union or small community bank.
Christian launched the "Bank Transfer Day" movement after getting fed up with her bank. She's moving, and is urging others to join her. In the wake of Bank America's decision to add a fee for using a debit card for purchases, many other consumers appear ready to join her. Others have expressed a wide variety of grievances.
Consumers may be receptive
"Bank of America is the most greedy, insidious bank in America," Helene, of Lakewood, Calif., told ConsumerAffairs.com. "I went to cash a check drawn on BofA directly at their teller counter. I was told it would cost me $5 to cash their check at their bank. This check was for under $30 and they expected me to pay them $5 to cash it. They are the reason Occupy (Wall Street) is in existence!
Emily, of Tacoma, Wash., was attracted to Chase by their "free" checking account. But she says after the account was opened, she learned it wasn't exactly free.
"I found that I had to maintain a $1,500 balance for it to be free or do direct deposit, but it only applies to direct deposits from government checks or company payrolls," Emily said, "I am a small business owner looking to have a direct deposit account for sales through a merchant account, and that doesn't apply. When I chose to cancel my account with 24 hours of opening it, they informed me that because I didn't wait 90 days, I would be charged $25 for each account - checking and savings! If I wait the 90 days, I will still get a $30 charge."
Donna, of Cupertino, Calif., recounts what she remembers an an unpleasant incident with Wells Fargo a few years ago.
"I had five small transactions pending on a Friday, then I checked my account on Saturday and three cleared with two still pending," Donna said. "I checked my account on Sunday, there's no action. I checked my account on Monday, and a $100 check I wrote that same weekend that I didn't think would hit before the five smaller transactions, not only hit, but the bank reversed the three transactions it had already cleared and bounced all five of the smaller transactions."
Credit Unions taking advantage
For these and other consumers who might want to switch their banking, credit unions are trying to make it easier. The Credit Union National Association announced that is more than 7,000 member credit unions have already seen a surge in new members since Bank of America announced in September its $5 monthly debit fee.
The Credit Union Association of New York has assembled a special page on its website containing tools for members to take advantage of Bank Transfer day, including media talking points and model press release. Three Long Island credit unions have collaborated on a special website, BetterBankingForLongIsland.com, promoting "checking that's really free, lower rates on loans," and "friendly, professional service."
Will consumers make the switch on Nov. 5? After years of resentment at mounting fees, it might not take a lot of encouragement.
---