---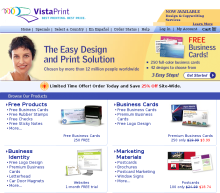 Connie, of Muscatine, Iowa says she was surprised when she opened her bank statement and saw an automated withdrawal of $382.80 by VistaPrint that she says she didn't authorize.
"I cannot reach these people," Connie told ConsumerAffairs.com. "Apparently, I have ordered from them before but I did not authorize anything recently. I received a phone call from someone about magazine subscriptions but I told them I was not interested. They told me they would send me a letter in five days to review but it never came. I am really ticked off. It is a good thing my retirement check had just been deposited to cover this."
If the withdrawal was not authorized, Connie should not pay it. She should contact her bank's fraud department and have them sort it out by asking for a proof of purchase.
Rigid policy
Cellular phone companies hit consumers with a hefty early termination fee when they end their contracts before they are up, but most companies make rare exceptions. In T-Mobile's case, that exception appears to be pretty much cast in stone.
"T-Mobile policy states that if one moves overseas the termination fee will be waved," Marie, of Monterey, Calif., said. "I moved overseas, canceled my T-Mobile service, provided them with my new address, got the last bill, paid it. A month later I got a bill with the termination fee that I am still fighting a year later."
The problem, apparently is that T-Mobile requires a utility bill within 30 days of moving overseas. Marie said she didn't have a utility bill because they were living with her husband's parents for two months before they found a place on their own.
"I provided T-Mobile with a stamp from my passport showing when I arrived to Germany, my medical bills that show that I was overseas and finally the rental agreement that started 60 days after we arrived. T-Mobile denied these docs stating that they needed a utility bill."
T-Mobile obviously wants to make sure people it lets out of their contracts have actually moved overseas and are not just taking a long vacation. Seems like their should be some alternative to a utility bill, however.
Hot dish
Paula Deen is the deeply southern host of a TV cooking show has put her name on a set of high end copper cookware. Not everyone using the product is happy.
"I purchased a Paula Deen saucepan and used it for about a year regularly before it melted onto my glass stovetop, causing the stovetop to explode and shrapnel to be sent flying everywhere," Erin, of Wisdom, Mont., told ConsumerAffairs.com.
A chef has pointed out that many consumers may not realize that these sauce pans are designed to be used with very low heat. Use too much heat and you could have a mess like the one Erin describes. Maybe Paula should do a show about that.
Depends on the definition of hurricane
When is a hurricane not a hurricane, and why does it matter? Just ask Linda, of Virginia Beach, Va. Earlier this month, when Hurricane Irene churned up the Atlantic Coast, Linda's roof suffered damage. But Nationwide denied Linda's claim, invoking the "hurricane clause" in her policy. Turns out she isn't covered for hurricane damage.
But was Hurricane Irene actually a hurricane when it hit Linda's house? Linda claims it wasn't.
"The National Weather Service called for winds to not come close to the 74mph sustained winds needed to qualify for a hurricane," Linda said. "The winds we experienced were sustained at 40mph, with gusts 55-57mph in this area."
Her house was damaged by a really bad storm, not a hurricane, Linda says. So far, Nationwide isn't buying it. Linda says her deductible has been raised from $1000 to $10,000.
---