---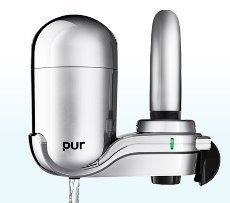 With more consumers trying to avoid buying water in plastic bottles, water filers are gaining in popularity. But Kevin, of Athol, Mass., says he has had consistent bad luck with PUR water filers.
"First unit lasted maybe two years, then started serious leaking around casing where it swivels," Kevin told ConsumerAffairs.com. "Bought a second one thinking maybe I had done something to cause the leak, same exact leak started, sprays water everywhere. It will stop if I put upward pressure on the unit, but I shouldn't have to. These units aren't cheap. They will not be getting a third chance from me."
Kevin's complaint does not seem to be an isolated. Several other consumers have recently reported the same problem to ConsumerAffairs.com.
Bad timing
Apple products are known to be a bit expensive. They can also be expensive to repair.
"My iPad was purchased on Sept. 8, 2010 and given to me as a gift at Christmas," said Anne, of Croton on Hudson, N.Y. "The day after it left the one year warranty period, it developed a screen defect, an unmovable large black line the width of a pixel, permanently mars the screen. I have maintained it in pristine condition, the line appeared without cause. Apple wants $300 to fix the defect and insists that it can do nothing because the iPad is out of warranty -- by 22 days."
Some companies actually offer a brief grace period for problems that occur just outside of warranty, and it's a policy that probably engenders a lot of consumer good will. Anne said she had been thinking of buying a $2000 MacBook, but is having second thoughts now.
Where there's smoke...
We received an interesting complaint from Philip, of Northport, Ala., about Holiday Inn Express, specifically about the hotel chain's no-smoking policy. Like many hotels, Holiday Inn Express attaches a $200 charge to your room bill if you smoke in a non-smoking room. But how do they know if you light up? That's the crux of Philip's complaint.
"I have stayed at this hotel since its opening with no problems," Philip told ConsumerAffairs.com. "On checking in I know that one of the forms you have to sign is the no smoking policy and the requisite fine you will incur, so I use the designated smoking areas outside the hotel if I need to smoke. On receiving my credit card bill at the end of the month, attached to my hotel bill statement was a $200.00 smoking fee for this particular stay. There was no notice of this charge sent to me in e-mail. Upon calling the hotel to inquire why I was charged the extra fee I was told that I had smoked in my room when I know for a fact I did not."
Philip said he repeatedly tried to speak with the hotel manager but could not. He said he was told that the house-keeping staff "smelled cigarette smoke in his room" and concluded that he had broken the rules. This does seem a bit arbitrary, since someone smoking outside would likely have the smell of smoke on their clothing, which could be transferred to an enclosed space, like a hotel room. Consumers who smoke should be aware of these policies when they check into hotels and stay in a no-smoking room.
Use it or lose it
Cheryl, of Spring Hill, Fla., says she is a senior living on a fixed income, so she doesn't want to spend a lot for a cell phone – just something for emergencies. She opted for a pre-paid phone from T-Mobile.
"Initially I bought $100 worth of minutes, feeling it would last," Cheryl said. "After more than a year, the balance was $69. On September 26, I was forced to buy more time or lose the balance. I purchased $10 plus balance equaling 657 minutes. But that's good for only 90 days, at which time I will be forced to buy more time. This is a scam. How can T-Mobile force customers with prepaid phones to buy time plus lose the balance of money/minutes purchased?"
We checked T-Mobile's website and under the pay-as-you-go plan, it clearly states that the minutes purchased have a finite shelf life. It doesn't explain why, but our guess is that the company doesn't want you on their network if you aren't spending money. The minimum they'll accept appears to be $100 a year. All things considered, maybe not a bad deal for a cell phone.
---