---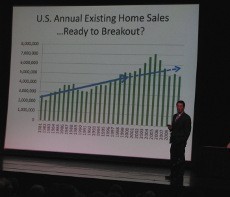 While Democrats ramp up calls to tax the rich and the Tea Party fulminates over excessive government spending, the chief economist for the National Association of Realtors worries about something more basic: the home mortgage deduction.
It's among the sacred cows being mentioned as a possible sacrifice on the altar of deficit reduction, a move Lawrence Yun says would be a disaster.
"Limiting the mortgage interest deduction would crush the working class in resort areas and damage consumer confidence to buy a home in middle-class areas," Yun told the Northern Virginia Association of Realtors today.
"Housing can't go lower than this," Yun said. "There will be some slight increases over the next two years. Home values and sales will show slow but steady growth, again fueling small business start-ups."
Small business jobs
What do home values have to do with small business start-ups?
Most small businesses are started by entrepreneurs who risk their own money. Few have enough cash on hand to fund a new business over the few years it often takes to hit profitability, so they tend to use the equity in their homes, Yun noted.
Few argue that rising home values fuel consumer confidence and encourage consumers to make big-ticket purchases like cars and homes. But Yun said it's too often overlooked that small businesses -- the largest source of new jobs -- are mostly fiinanced by home equity.
"Any discussion of limiting the interest deduction would be very, very harmful to home equity building," he said. "We need to fight hard to be sure the housing deduction is not changed."
Smart money
Yun also showed signs of frustration with the current obsession with gold prices. While many investors rely on gold as a hedge against inflation, Yun said the "smart money" -- wielded by cash-rich investors who have been successful for decades -- is a major force in the housing market's slow recovery.
Fully 35 percent of home sales today are all cash, Yun said. It would normally be about 8 percent.
"Who makes these purchases?" Yun asked. "People with money. They're generally one step ahead, so this is a very reliable sign of a rising market."
Obviously, some regions of the country are in better shape than others. North Dakota is doing well and Texas is "fully recovered," Yun said, while northern industrial states like Michigan are having a 10-year depression.
---