---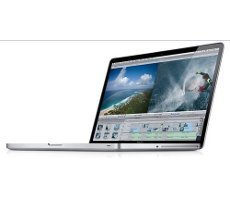 The 15- and 17-inch 2011 MacBook Pro computers have defective batteries that drain during use even when the AC adapter is plugged in, making the computer die unexpectedly, a class action claims in Solano County, California, Court, Courthouse News Service reported.
In the suit, Alex Tomek of Solano says he bought a new 17-inch MacBook Pro on February 28, just a few days after the new model was released amidst Apple promises of "huge leaps in performance."
But Tomek said he soon learned that the supposed leaps in performance were counter-balanced by a steep decline in battery life, to the point that his and other consumers' machines sometimes shut down even when they were plugged into an outlet.
Inadequate power supply
The reason, says Tomek, is that the 85-watt power adapter supplied with the machines is not up to the job of powering the the 2.3 gHz Intel Core 17 processor and its accompanying AMD Radeon graphics processor, despite Apple's advertising which promised that users would be able to "surf the web wirelessly for up to 7 hours on a single charge."
Tomek says consumers have been complaining about the problem since the machines were released but have received no satisfaction from Apple, which the suit alleges has "failed and refused and continues to faill and refuse to provide adequate customers service ... to cope with this defect."
One consumer who posted a complaint on ConsumerAffairs.com is Laxman of Mumbai, India: "I bought a 15" Apple MacBook Pro on the 29th of April 2011. It had display problems as it goes blank or turns off during a normal PC work. On the 25th of July, it completely switched off, so I went to its service center," he said.
"The service center said it has a battery problem and they would get the battery replaced within 2 days. Since then, I had been going to its service center for the battery because they said to come back after two days," Laxman recounted.
The suit charges Apple with negligence, breach of warranty, misrepresentation and unfair business practices. It seeks the usual array of damages.
---