---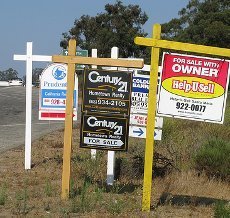 Political candidates and incumbents offer a never-ending menu of tax cuts, tax increases, jobs programs, financial stimuli, less regulation, more regulation and governmental "reform."
But what's most needed to get the economy moving again is consumer confidence, according to Mortgage Bankers Association President David Stevens, who blames the media for a relentless drumbeant of negative headlines.
"You don't see stories about good buying opportunities out there. You only see stories about foreclosures," Stevens said at a recent economic conference sponsored by the Northern Virginia Association of Realtors. "Actually, real delinquences are lower than they were a year ago but you don't see that in the headlines."
Today's delinquency rate is 8.44 percent versus 9.85 a year ago and the foreclosure rate is 4.43, down from 4.57, with 51% of all foreclosures in just five states, he said.
Demographics
Location, location, location is the traditional mantra of the real estate business but demographics, demographics, demographics should be the second verse, according to Stevens, who said a massive population boom will create a "huge shortage of housing" over the next few decades.
"The Echo Boom, born from 1981 to 1991, is going to cause an extraordinary demand for homes. They will be more urban, more Latino and will marry later but it is a huge generation and its impact with be huge," Stevens predicted.
Whether that generation winds up renting or buying will be a major factor in the nation's future economic well-being, he said.
If government regulations or onerous lending standards result in homebuyers needing a 20% down payment, "That's nothing more than saying you can buy a home if you're rich. If you're not, you're going to a renter for life," Stevens said.
Blame game
While the housing bubble collapse was indeed traumatic, Stevens said there's plenty of blame to go around; while the financial services industry wrote too many bad loans, it wasn't the only villain.
Consumers made mistake, he said: "Consumers who thought homes were a piggy bank; occupancy fraud, where consumers say they're going to occupy a house when in fact they're going to rent it; and also income fraud." That behavior was caused by consumers chasing 10 percent annual appreciation rates, he said.
Lawsuits and onerous regulations are now stymying the recovery, along with lack of consumer confidence, Stevens cautioned.
"There's a never-ending pile of lawsuits against anybody who can be sued," contributing to a lack of available credit, Stevens said. "There's so much concern about litigation that lenders are putting guidelines in place that are higher than anyone requires simply to protect themselves against litigation."
As for pending and proposed regulations, Stevene had kind words for Richard Cordray, President Obama's nominee to head the Consumer Financial Protection Bureau. Stevens said Cordray, the former Ohio Attorney General, is "a great guy who understands the issues."
---