---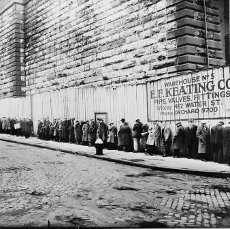 1930s Bread Line by the Brooklyn Bridge (Library of Congress photo)
With the economy in weak recovery mode since officially emerging from recession in 2009, it might come as no surprise that more Americans are living in poverty.
The U.S. Census Bureau confirmed it today, reporting that in 2010, median household income declined, the poverty rate increased and the percentage without health insurance coverage was not statistically different from the previous year.
According to the report, real median household income in the United States in 2010 was $49,445, a 2.3 percent decline from the 2009 median. The nation's official poverty rate in 2010 was 15.1 percent, up from 14.3 percent in 2009 ? the third consecutive annual increase in the poverty rate.
There were 46.2 million people in poverty in 2010, up from 43.6 million in 2009 ? the fourth consecutive annual increase and the largest number in the 52 years for which poverty estimates have been published.
Real income declines
Since 2007, the year before the most recent recession, real median household income has declined 6.4 percent and is 7.1 percent below the median household income peak that occurred prior to the 2001 recession in 1999. The percentages are not statistically different from each another, the report notes.
Economic conditions have also made it more likely that a family member would move in with you, created a so-called doubled-up household. Doubled-up households are defined as households that include at least one "additional" adult: a person 18 or older who is not enrolled in school and is not the householder, spouse or cohabiting partner of the householder.
Doubled-up households
In spring 2007, prior to the recession, doubled-up households totaled 19.7 million. By spring 2011, the number of doubled-up households had increased by 2.0 million to 21.8 million and the percent rose by 1.3 percentage points from 17.0 percent to 18.3 percent.
The number of people with health insurance increased to 256.2 million in 2010 from 255.3 million in 2009. But between 2009 and 2010, the percentage of people covered by private health insurance declined from 64.5 percent to 64.0 percent, while the percentage covered by government health insurance increased from 30.6 percent to 31.0 percent. The percentage covered by employment-based health insurance declined from 56.1 percent to 55.3 percent.
---