---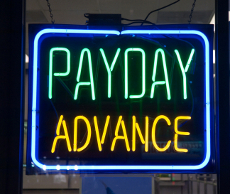 A South Dakota payday lender has agreed to stop garnishing consumers' wages pending trial on charges the garnishments were illegal.
The Federal Trade Commission (FTC) complaint alleges that Payday Financial, LLC, doing business as Lakota Cash and Big Sky Cash, along with other defendants, illegally attempted to garnish consumers' wages without obtaining a court order, to collect payments on payday loans.
As a result, the defendants illegally revealed consumers' supposed debts to their employers and deprived consumers of their right to dispute the debts or make payment arrangements, the FTC alleges.
According to the FTC, defendant Martin A. Webb operates Payday Financial, LLC, and several related businesses in Timber Lake, South Dakota.
Short-term, high-fee loans
The defendants offer short-term, high-fee, unsecured payday loans of $300 to $2,525 to consumers throughout the country, advertising on television and through websites such as www.bigskycash.com and www.westernsky.com.
The FTC complaint alleges that when a consumer does not pay back a payday loan on time, the defendants send documents to his or her employer that mimic those used by federal agencies collecting debts owed to the government in an attempt to garnish the consumer's wages.
Under federal law, the government can directly require employers to garnish wages for debts it is owed without a court order. But private creditors must obtain a court order before garnishing a debtor's wages. The complaint charges the defendants with violating the FTC Act by:
misrepresenting to employers that the defendants are legally authorized to garnish an employee's wages, without first obtaining a court order;

falsely representing to employers that the defendants have notified consumers about the pending garnishment and have given them an opportunity to dispute the debt; and

unfairly disclosing the existence and the amounts of consumers' supposed debts to employers and co-workers without the consumers' knowledge or consent.
The complaint further alleges that the defendants have violated the FTC's Credit Practices Rule by requiring consumers taking out payday loans to consent to have wages taken directly out of their paychecks in the event of a default, and have violated the Electronic Funds Transfer Act and Regulation E by requiring authorization for electronic payments from their bank account as a condition of obtaining payday loans.
---