---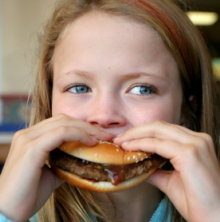 The Obama Administration should resist the food and advertising industries' pressure to torpedo voluntary nutrition guidelines for foods marketed to kids, academic experts said today.
In a letter to President Obama, 75 physicians, psychologists, nutritionists, and marketing experts from universities around the country urged Obama to ensure that the Interagency Working Group (IWG) on Food Marketed to Children completes its work and finalizes the congressionally requested marketing guidelines.
"You and the First Lady have helped Americans understand that child nutrition and obesity are national health concerns, with one in three children either overweight or obese," the scientists wrote. "While numerous factors contribute to obesity and children's poor diets, food marketing plays a key role."
Junk-food advertisers, in the guise of the Sensible Food Policy Coalition, have attacked the voluntary guidelines as an assault on the First Amendment, a point debunked by top Constitutional experts, and claimed that adopting the voluntary guidelines would result in job losses, based on a flimsy industry "study," the letter said.
Providing media relations work for the coalition is former White House communications director Anita Dunn. Industry lobbyists have prevailed upon House appropriators to add language blocking the IWG, though the Senate Appropriations Committee has reaffirmed its support for the IWG.
Comprised of officials from the U.S. Department of Agriculture, the Food and Drug Administration, the Federal Trade Commission, and the Centers for Disease Control and Prevention, the IWG released draft nutrition guidelines and marketing definitions in April. Nutrition and health advocates praised the guidelines, which recommended reasonable ceilings on the amounts of sodium, added sugars, and unhealthy fats and proposed minimum amounts of fruit-, vegetable-, or whole-grain-based ingredients in foods marketed to kids.
But even though those guidelines are totally voluntary, junk-food advertisers are waging a campaign of disinformation aimed at getting the government to withdraw them, the letter's signers said.
---