---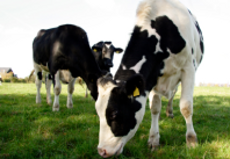 A Los Angeles law firm has filed a class-action lawsuit on behalf of consumers alleging that various dairy companies and trade groups slaughtered more than 500,000 cows to help inflate the price of milk.
The suit filed by Hagens Berman alleges that the National Milk Producers Federation, Dairy Farmers of America, Land O'Lakes, Inc. and Agri-Mark, Inc. combined to form Cooperatives Working Together (CWT) in order to fix the price of milk in the United States.
CWT is a massive trade group representing dairy producers throughout the country who produce nearly 70 percent of the milk consumed in the United States.
The lawsuit, filed in the United States District Court for the Northern District of California, alleges that between 2003 and 2010, more than 500,000 cows were slaughtered under CWT's dairy herd retirement program in a concerted effort to reduce the supply of milk and inflate its price nationally.
According to the complaint, the increased price allowed CWT members to earn more than $9 billion in additional revenue. The case was initially researched and developed by Compassion Over Killing, a national animal protection organization.
Shameful killing
"We believe this case serves two important causes," said Steve Berman, managing partner of Hagens Berman. "A resolution to this case will protect consumers from artificially-inflated milk prices and also will prevent the unnecessary and shameful killing of tens of thousands of cows each year."
"The dairy industry has consistently shown its lack of regard for animal welfare and the environment," said Compassion Over Killing general counsel Cheryl Leahy. "Now it's milking its own consumers by unlawfully jacking up prices. The dairy industry must be held accountable for these illegal profits."
The complaint further alleges that the program, which paid smaller farm owners to kill their entire dairy cow herds, unfairly increased the profits of agribusiness giants.
Effects last years
Dairy herd retirement ended in the summer of 2010, but CWT's tactics may affect the price of milk for years, according to the lawsuit. The end of the program came shortly after Land O'Lakes agreed to pay $25 million to settle a class-action lawsuit filed against the United Egg Producers and its members.
That case alleged that egg producers were encouraged to reduce their flock size as part of a program disguised as an animal welfare initiative.
Compassion Over Killing (COK) is a nonprofit animal protection organization based in Los Angeles and Washington, D.C. Since 1995, COK has worked to end the abuse of animals in agriculture through undercover investigations, public outreach, litigation, and other advocacy programs. COK is on the web at COK.net.
---