---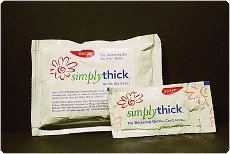 A Texas couple says say their 4-month-old son died from eating bacteria-tainted SimplyThick, a formula additive, just one day after the U.S. Food and Drug Administration (FDA) warned against using the additive in infants born before 37 weeks..
The parents sued SimplyThick, a thickening agent for management of swallowing disorders, Thermo Pac, and Respiratory Instruments dba Medco Medical Supply in Dallas County Court.
Heather Harris and Brandon Flowers say their child, Brayden, was born January 27, 2011, and was prescribed SimplyThick by his neonatologist to help with his digestion.
The suit says that after taking SimplyThick, Brayden developed diarrhea, constipation and apnea.
On May 24, without warning, the couple found Brayden comatose in his crib. He was rushed to a nearby hospital and died two days later at the age of 17 weeks.
FDA warning
On May 23, the FDA warned new parents, caregivers and health care providers not to use SimplyThick in foods given to infants born before 37 weeks, warning that it could cause a a life-threatening condition characterized by inflammation and death of intestinal tissue.
"Brayden was killed by SimplyThick. He ingested the tainted, bacteria-ridden, poisonous batch of product that was improperly manufactured and sold to the public," the suit charges. It seeks damages of $5 million.
FDA said it first learned of adverse events possibly linked to the product on May 13, 2011. As of last weekend, the agency was aware of 15 cases of the condition, known as NEC, including two deaths.
The cases involved premature infants who were fed SimplyThick for varying amounts of time. The product was mixed with mothers' breast milk or infant formula products.
Illnesses have been reported from at least four different medical centers around the country. The illnesses of which FDA is aware involve premature infants who became sick over the past six months.
SimplyThick was added to the feeding regimen of those infants who later developed NEC to help with swallowing difficulties stemming from complications of premature birth.
---