---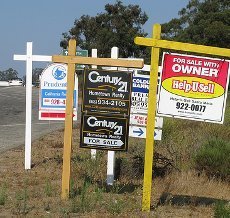 Home prices are down 50 percent or more from their bubble highs in some markets. Mortgage rates are at historic lows. Rents are skyrocketing in some areas.
Sounds like a recipe for a rebound in the housing market, doesn't it? Only it isn't. Home sales remain in the gutter and more and more consumers, who insist they can afford to buy a house, say they simply can't get a mortgage.
"I have been trying to buy a home in the state of Florida for at least a year and never got past an accepted contract," Anthony, of Kingston, Wash., told ConsumerAffairs.com. "During that time I have been pre-qualified two to three times by Bank of America.
That was then, this is now
Anthony says he is a long-time Bank of America customer, having paid off two previous mortgages. He said the bank had even contacted him in the past to see if he were interested in applying for a loan. With a credit score right around 800 and pension income, Anthony would seem to be the kind of applicant banks would compete for.
"On August 12, 2011 I finally received an accepted contract, contingent on loan approval," Anthony said. "This is when my problems began. The unanswered e-mails and unreturned phone calls are too many to list. I received an e-mail stating they needed an extension on the Sept 15, 2011 closing date, then they told me that and they needed a full 30 days to close. I went to seller to get extension and got it. I faxed it to them and upon receipt by them was immediately told they couldn't close on the 19th. Not only that, they couldn't give me a new closing date.
Good start goes downhill
Paul, of Miami Lakes, Fla., says the loan process with Quicken got off to a promising start. After that, however, he says the underwriters began asking for what he says was "weirder and weirder documents."
"Finally, two weeks prior to closing, they refused to make the loan," Paul said. The reason? A W-2 and a 1040 extension form weren't good enough to prove my income. They wanted the filed 1040 or nothing! Their underwriters seemed unable to form common-sense opinions on numerous prior documents, this one just being the latest. I have a 760+ credit score, but that wasn't good enough for underwriting."
Building on this theme, Mary, of Orland Park, Ill., reports PNC Bank underwriters have demanded what she calls "unnecessary documentation which have no bearing on securing this loan." Mary and her husband are no strangers to real estate transactions. She says the one with PNC was for a second home.
"My husband's credit score is over 800 and mine is over 750," Mary told ConsumerAffairs.com. "I feel as if we are being harassed by the bank and almost discouraged from borrowing money when we can clearly afford to do so."
The old lending standards would do
Lawrence Yun, chief economist for the National Association of Realtors, has pleaded with lenders to make more loans. He says if banks would simply return to the lending standards in place before the housing bubble, home sales would surge by 15 percent.
Why don't they? The reasons may not be so simple. Industry officials say loan underwriters are being overly cautious out of fear of being sued for mortgages that default. Like generals fighting the last war, banks appear to be qualifying only top applicants for top properties, out of fear anything less would set off another housing crisis.
The lenders say their new standards are working – for them. They point proudly to the fact that fewer than two percent of the mortgages written in 2009, for example, have gone to foreclosure, compared to about 11 percent for loans made in 2006.
While that is indeed a good record, Realtors say these increasingly tough standards are choking off the money supply the housing industry desperately needs to recover.
---