---
The Knoxville Division of the Federal Bureau of Investigation (FBI) is warning consumers about a check scam that has cropped up in East Tennessee, possibly targeting individuals who have advertised on Craigslist.
The scam involves counterfeit checks, which appear to be issued by UT-Battelle LLC. They range in amount from $2,200 to $3,000 and have been sent to multiple individuals in various states.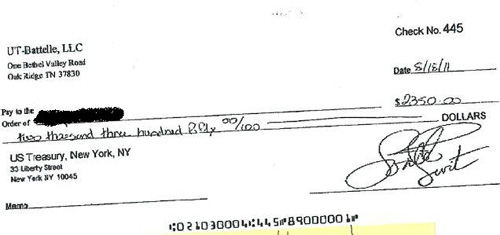 The checks are sent via FedEx to specific victims directing them to deposit the checks into their personal checking accounts. The victim is instructed to keep a portion of the deposit proceeds and send the remaining funds back to the sender.
By the time the bank notifies the depositor the check is fraudulent, the depositor may have already sent the remaining funds back to the sender.
Personally identifiable information can readily be obtained from many different sources. However, early indications suggest some of the individuals who have received the UT-Battelle checks have either had items listed for sale on Craigslist or have responded to ads posted there.
The FBI advises the public to be aware of such fraudulent schemes and to be diligent when receiving checks or solicitations in the mail or via e-mail. The FBI encourages the public to protect themselves and avoid becoming a victim of these types of scams.
---