---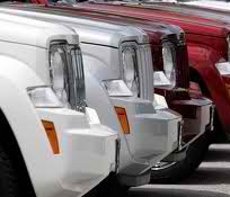 There's really no surprise here. Gasoline prices go up, and so does demand for small, fuel-efficient vehicles.
That's not all that went up. So did the sticker price on small cars sitting on the used car lot. An analysis by Edmunds.com reveals that consumers paid about 10 percent more for used three-year-old compact cars in July than in January.
By comparison, prices for this segment rose just 1.6 percent over the same period in 2010, and 1.1 percent in 2008, the last time gas prices crept over $4/gallon.
Good deal on an SUV
Don't really care what gasoline costs? Then you could have found a bargain-priced SUV. Used three-year-old large traditional SUVs saw a small drop in price - 3.2 percent, on average - from January to July. And apparently there are plenty of people who have figured out the trade off in price of car and price of gas works in their favor. This segment of the market demonstrated much more stability than it did in 2008, Edmunds says, when the price of used three-year-old large traditional SUVs plummeted 23 percent during the first seven months of the year.
"In 2008, consumers reacted to rising gas prices by running away from SUVs; in 2011, they reacted by running toward small cars," said Richard Arca, used car analyst at Edmunds.com. "This year's pricing trends are also affected by the March earthquake in Japan, which for some time made it very difficult to find, for example, a new Toyota Prius or Honda Civic. That created a very aggressive market for similar used models."
Holding their value
According to Edmunds.com data, the price of a new 2010 Toyota Prius bought in July 2010 depreciated just 4.3 percent after one year, while the price of a new 2010 Honda Civic depreciated five percent over the same period. By comparison, the average price for all new 2010 models depreciated 28.9 percent during that time.
Overall, used car prices have climbed 4.3 percent from January to July this year. In 2010, prices rose 3.0 percent over the same period.
---