---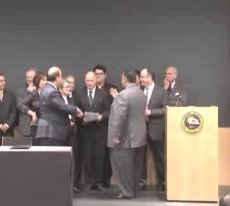 Gov. Brown greets politicos as he signs "landmark" sales tax legislation
As California goes, so goes the nation. Well, so it's said anyway.
And just to prove it, California is going to start collecting sales tax from online retailers, a move Gov. Jerry Brown says will "create tens of thousands of jobs and inject hundreds of millions of dollars" into the state's moribund economy and spur the rest of the nation to follow in its footsteps.
How will more taxes create more jobs, you may ask.
Well, as the man once known as Gov. Moonbeam explains it, the measure will "level the playing field between online retailers and California's brick-and-mortar businesseses."
The California Board of Equaliziation has estimated that the state loses more than $1 billion a year from uncollected sales tax on online purchases, some $83 million of that from Amazon alone.
A compromise
Earlier this year, you may recall, Amazon threatened to pull out of California, closing any offices or distribution centers there and jettisoning its 25,000 online affiliates in California, independent Websites who sell Amazon products through ads on their sites. The measure Brown signed into law last Friday is a compromise measure that is more to Amazon's liking.
But back to the jobs question. How will raising taxes create jobs, other than jobs for more state bureaucrats?
Well, as Gov. Brown explains it, the state law -- authored by Assemblyman Charles Calderon -- really is intended to spur Congress into action, the theory being that when Congress sees California taking action, it will fall in behind.
So how does that create "tens of thousands of jobs?"
Well, see, the state won't actually begin collecting the new online sales tax until Sept. 15, 2012. And in exchange for that one-year window, Amazon has promised Gov. Brown it will create 10,000 full-time jobs and hire 25,000 seasonal employees by the end of 2015.
Just what those jobs will be and where they will be located is -- we guess -- in the cloud somewhere but no one down on earth seemed to have an answer today.
---