---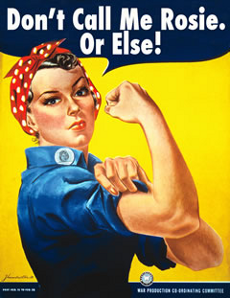 Rosie the Riveter, Labor Day Icon
The Labor Day Weekend will find millions of Americans on the road, traveling to visit friends or taking that last summer fling. It's a good time to remind travelers to be on guard against assorted travel scams.
"Criminals will take advantage of tourists in new and unfamiliar environments," said Michigan Attorney General Bill Schuette. "Travelers should remain on guard for surprise requests for credit card information and high pressure sales tactics that don't correspond with advertised deals."
The Michigan Attorney General's Consumer Protection Division recently received a report from law enforcement regarding a bait-and-switch scam used by several souvenir stores located in the same area.
The retailers advertised personalized souvenirs at a low price. Tourists would order the souvenir, and when they returned to pick it up, they were told the item was far more expensive than initially advertised. Consumers were pressured to pay the higher price under threat of report to local police.
Guard your card
Consumers also need to be extra careful with their credit card information. Schuette warns criminals will pursue underhanded avenues to obtain credit card numbers from unsuspecting tourists.
This scam can occur through unsolicited phone calls at hotel rooms indicating tourists need to provide their credit card number again due to a billing glitch.
Fraudsters will also slide flyers under hotel room doors advertising cheap restaurant delivery deals. When tourists order the food by telephone, criminals will collect their credit card information and never deliver the food.
Tips
How can you protect yourself while traveling? Follow these steps:
When faced with a "bait-and-switch" scenario, don't allow yourself to be intimidated. Be firm, but calm, and demand the rate that you were promised or the item that you agreed to order.
Be prepared to walk away if you don't get what you were promised. Chances are, if the business or individual is faced with losing a paying customer, they will agree to give you the deal as promised.
Take time to review all the details to ensure you know what you are purchasing before you buy. Ask if there are any additional fees not reflected in the advertised price.
Make sure you read all documents carefully before signing.
Once you have checked into a hotel, if you receive flyers under your door, or a call from the hotel's front desk, always check with the hotel's front desk in person, prior to placing an order or providing your credit card number or other personal identifying information.
Whether you are traveling or not, never provide personal information in response to an unsolicited phone call, email, or advertisement.
---