---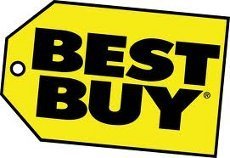 Best Buy may have won the hearts and minds of consumers but it appears to be losing the battle for their money, as customers defect to Amazon and other online retailers or trudge over to the Walmarts of the world.
No question Best Buy has won the Last Man Standing battle, outlasting Circuit City, which surrendered and went out of business a year or so ago. But the victory party had hardly ended when sales took a sickening plunge.
Sales were off 30 percent in the second quarter this year, setting off a race for the exits by investors who are fearful that Best Buy's bright and attractive stores and its emphasis on customer service are no longer the qualities consumers are looking for.
As discretionary income dries up and the American middle class gets whittled down to a workable size, consumers are increasingly not willing or able to pay for a nifty shopping experience and on-site service.
"The consumer is willing to trade customer service for the best possible price," said one analyst quoted by the Wall Street Journal. Not only are consumers increasingly becoming bargain hunters, they're also cutting back on discretionary purchases, including the computers, big-screen TVs, games and gizmos that are Best Buy's bread and butter.
Nothing personal
Sure enough, a ConsumerAffairs.com analysis of nearly 11 million consumer comments on Facebook, Twitter and other social media and blogs finds consumers feeling generally positive about Best Buy despite the chain's falling sales.
Using computerized sentiment analysis of about 2.3 million postings, we found Best Buy easily maintaining a net positive sentiment over the last 12 months, peaking at 60% positive in July but beginning what may be either a descent or a dip to below 40% by early September.
Blue line shows net sentiment
Amazon also maintained a consistently positive net sentiment for the year, generally around 60%, dipping occasionally to just above 40%, as shown in this graph based on about 8.6 million consumer postings.

Blue line shows net sentiment
What's to like?
What is it that consumers like about these retailing giants? Perhaps surprisingly, in a world where most retail loyalty programs are little more than yet one more detail to keep track of, Amazon customers are wild about its "Prime" program, which costs a hefty $79 per year.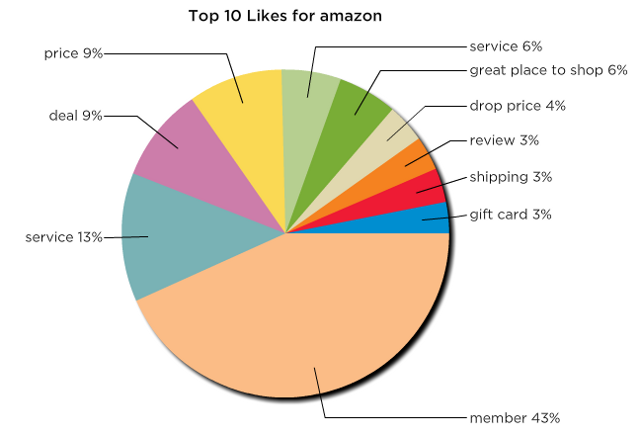 The enthusiasm for Prime comes blazing through in our sample of consumer postings.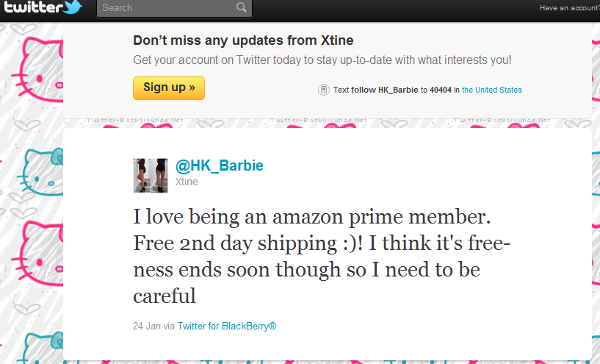 "I love being an Amazon Prime member. Free 2nd day shipping :)! I think it's freeness ends soon though so I need to be careful," enthused @HK-Barbie on Twitter. Actually, HK-Barbie, 2nd-day shipping is still free for almost all purchases. (You should still be careful though.)
Best Buy customers, meanwhile, are evenly divided between the chain's gift cards and its "deals" at 20% each.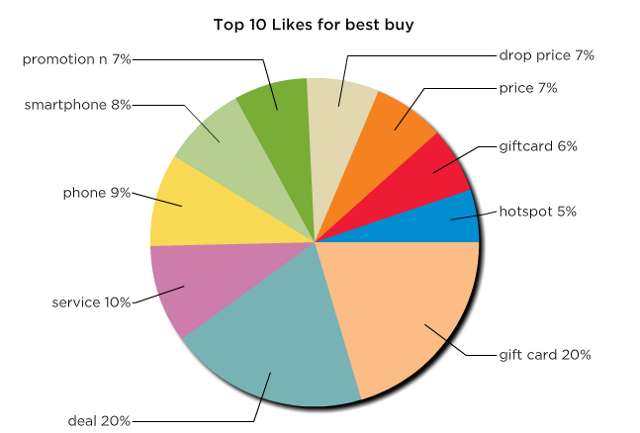 Fiddling
So is Best Buy vainly trying to hold back the tide? Maybe not. Besides brightening its stores, it's making them smaller and putting even more emphasis on personal service from its in-store employees, dubbed "blue shirts," and its Geek Squad, which will make house calls to set up and fix computers, TVs and the like.
Amazon doesn't do any of that but then neither do Costco, Walmart or other discounters who have been eating ever-larger bites of Best Buy's lunch.
Best Buy has also been beefing up its online presence. Consumers can order merchandise online and pick it up at the local Best Buy (though why that is better than just ordering from Amazon and letting somebody else lug it up to your house a day or two later is debatable). It has also commissioned a virtual Geek Squad, called "Twelpforce," which offers technical advice through Twitter.
All dressed up …
So in the end, will Best Buy wind up as likeable, clever and attactive but somehow unable to get a date? Time, as they say, will tell.
---
Sentiment analysis powered by NetBase
---