---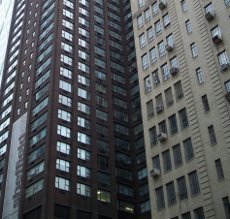 While there are plenty of unsafe products that injure children, researchers say there is one dangerous product that gets little or no attention – the window.
A new study conducted by researchers at the Center for Injury Research and Policy of The Research Institute at Nationwide Children's Hospital found that approximately 5,200 children each year are hurt by falling from a window. A total of 98,415 children and adolescents were injured by falling from a window between 1990 and 2008, the years included in the study.
The study appears in the September 2011 issue of the journal Pediatrics.
One out of four hospitalized
"Window fall injuries are serious," said the study's senior author Gary Smith, director of the Center for Injury Research and Policy at Nationwide Children's Hospital. "In fact, one out of every four children in our study was hospitalized as a result of their injury. We know from successful programs in New York City and Boston that child injuries due to falls from windows can be prevented. We need to do a better job of protecting our children from these types of serious injuries."
Not surprisingly, the study found that the younger the child, the more vulnerable they were to falling from a window. Children infants to four years of age accounted for 65 percent of the injuries. Their injuries also tended to be more serious.
Head injuries most common
Overall, the most common injuries were to the head and face region, and the most frequent injury diagnoses were soft tissue injury and brain/head injury.
In this study, more than 190 children each year fell from windows after gaining access to the window by climbing on furniture placed near the window. Therefore, the researchers say, furniture should be moved away from windows to help keep young children safe.
"In addition, it is important for parents to understand that window screens will not prevent a child from falling out of a window," said Smith, also a professor of pediatrics at The Ohio State University College of Medicine. "There were many children in our study who pushed a screen out of a window and then fell from the window."
Prevention
To prevent injuries from window falls:
Install window guards on all second-story or higher windows in places where young children live or visit.
Remember that screens will NOT prevent a child from falling out of a window.
If windows are open, use window stops to prevent the window from opening more than 4 inches.
Move all furniture away from windows.
Remember that fire escapes, roofs and balconies are not safe places for children to play.
Educate older children on the dangers of climbing out of or jumping from windows.
Consider planting bushes or locating flower beds under windows to soften the landing surface, which may reduce the severity of injury in the event of a fall.
---