---
One of the frequent questions readers pose to ConsumerAffairs.com, usually at the end of a detailed complaint, is "Why hasn't this product been recalled?"
The answer, of course, is that it is up to the U.S. Consumer Product Safety Commission (CPSC) to issue a recall, and the agency must first hear from consumers about the issue, then conduct an investigation.
In cases where the manufacturer discovers the problem, there is a fast-track process for initiating a recall. In fact, manufacturers and importers bear a lot of responsibility in initiating most recalls.
Under the law, companies are required to report product hazards to CPSC. If companies are aware of product hazards but fail to report them, the companies risk serious civil and/or criminal penalties.
Filing a complaint
Consumers can, and should, report their experiences with an unsafe product at the CPSC website. On the main page there is a link for consumers to report an unsafe product. Clicking it will take you to a complaint form where you will be asked to describe the product and your experience with it. You will also be given the option of filing your report online, by mail, or by telephone.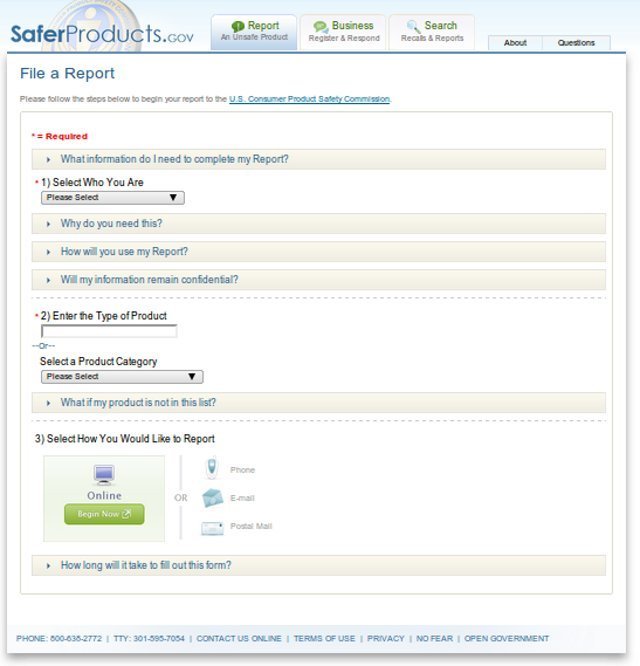 Filing the report will take between five and ten minutes, the agency says. Once filed, your report will be part of any investigation the agency undertakes into the product. Consumers should also report the problem to the manufacturer or importer, to make sure they are aware. If they are informed of a problem and fail to act, they can be held accountable.
Consumer product recalls fall in second quarter
While food recalls increased during the second quarter of the year, consumer product recalls were down, according to a report earlier this month by ExpertRECALL. Laceration risks were the leading cause of product recalls by the CPSC. Recalls of sports and recreational equipment increased for the third straight quarter, accounting for more than 20 percent of all CPSC recalls.
Food recalls are monitored by the Food and Drug Administration (FDA). The leading cause of food recalls in the second quarter was undeclared allergens, accounting for 45 percent of all recalls.
"While we don't see increased recall activity in every category, we can expect regulatory agencies to continue to beef up their oversight of both manufacturers and retailers, resulting in more recalls for the remainder of the year," said Mike Rozembajgier, Vice President of Recalls for Stericycle ExpertRECALL. "Manufacturers and distributors need to keep a close eye on their regulatory agencies, as well as industry critics and consumer safety advocates because their persistence has often influenced government oversight, leading to more recalls."
Stericycle ExpertRECALL is a company that manages consumer product, pharmaceutical, medical device, juvenile product, and food and beverage recalls.
The ExpertRECALL Index shows that children's and infant products recalled during the second quarter caused 65 reported injuries. FDA enforcement reports documented 97 pharmaceutical recalls during the second quarter of 2011, a five-quarter high for the category.
---