---
Where there's smoke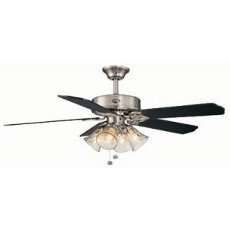 Alan, of Anderson, Calif., reports what he thinks is a dangerous problem with his Hampton Bay ceiling fan, which he says he bought several years ago.
"The blades would not balance out, and Thursday, at 1:30 am, my daughters smelled plastic burning, they found the ceiling fan had stopped turning and when they turned on the lights there was smoke coming out above the light kit," Alan said. "After being woke up I took it apart to find the motor had shorted and a bridge had melted above the light kit. Had this not been caught in time we would have lost our house to a fire."
It might be worth noting than in late 2009, Hampton Bay recalled 2000 dehumidifiers because of a potential fire hazard. In any event, Alan should also report it to the Consumer Product Safety Commission, just in case there are other incidents reported.
Expensive information
How much would you pay to look up someone's phone number? Some people agree to pay a small fee to online services for this, only to find they have been enrolled in a membership with a larger, recurring charge.
"I paid PeopleFinder.com with a credit card," Sherri, of Pangburn, Ark., told ConsumerAffairs.com. "It states you pay a one time fee of $4.95 to look up one number and you will receive information, name & address of who owns the phone of the phone number you are looking up. I got charged $4.94 plus $2.99 and NO name or address. When I call PeopleFinder.com they said it was not refundable."
It's perfectly legal to sell this information but consumers like Sherri should realize there are free services, such as Switchboard.com, out there too.
Too much information
Western Renewal Service sells magazine subscriptions and has drawn a number of complaints from consumers, who say they are being charged for magazines they didn't order.
"The company stated I had either signed up for a 30 month subscription or signed up for that same subscription through a promotion in May 2011," Chris, of Staten Island, N.Y., told ConsumerAffairs.com. "I had 30 days to cancel the subscription but I learned about this for the first time on August 16th, 2011. The company said there was no way to cancel this service. I either had to pay $69.90 a month for 30 months or agree to $39.90 a month for 30 months. I requested more information on when and where i signed up for this. They stated i had to sign up for the subscription and they would give me the info about "the mainframe company". I was forced against my will to agree in order to find out this information."
Ouch! Chris made an unforced error when he agreed to the outrageous demand that he "sign up" in exchange for getting the information to which he is entitled. In effect, he agreed to legitimize what was, in all likelihood, an unauthorized charge.
Consumers should remain wary. Other complaints about this company indicate they get the consumer's credit card information through third-party marketing agreements with other companies. Be very careful during online transactions. Don't Accept "free" offers or extra "discounts," as that could be how you get signed up for a subscription.
---