---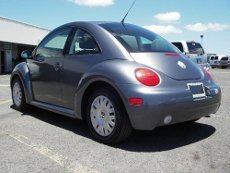 People who own Volkswagens tend to love them. And Amy, of Strathmere, N.J., liked her VW Beetle a lot until she had to keep replacing the back windows.
"I purchased a new 2004 VW Beetle and had to replace the back windows three times in the past six years," Amy told ConsumerAffairs.com. "The window cable package with labor will easily cost a $1,000.00. I have spoken to many VW Beetle owners and every single VW owner says the same thing; they like the car but have had to replace the back windows. VW refuses to acknowledge this as a recall and will not offer full/partial payment for this part."
ConsumerAffairs.com has, indeed, received some complaints lately about the Beetle's rear windows, along with transmission woes. If anyone has any insight into this problem, let us know.
Obstacle course
Getting a home mortgage modification apparently isn't getting any easier. From the very beginning, we have received complaints from consumers who say they have been required to repeatedly fax documents to the loan servicer, only to have their application seem to fall through the cracks. Apparently, not a lot has changed.
"I have been dealing with Chase trying to get a loan modification since January 2011," said Dan, of Brentwood, Calif. "I have had the same results as the other folks complainin, which is no results, just keep sending paperwork over and over again. "Is there anybody we can complain to to get some closure on this process? I'm ready to give up, which is what Chase wants me to do."
Dan might try complaining to the department of Housing and Urban Development (HUD), which oversees the government's mortgage modification program. Also, the new Consumer Financial Protection Bureau is open for business, and overseeing mortgage matters is one its responsibilities.
What part of "cancelled" don't you understand?
In June Manya, of Bryans Road, Md., said she ordered a product from one of All-Star Product Group's Website, but immediately afterward changed her mind and tried to cancel. Though she says the process was not easy, she was able to do it well before the product was scheduled to ship.
"On June 20th, 2011, I canceled the order and received a confirmation number," Manya told ConsumerAffairs.com. "On July 26, 2011, I was charged $89.85 for the order and it went into shipping with FedEx. This is a case of credit card fraud because they have my credit card info they billed at will on a canceled order."
Because Manya has a confirmation number for her cancellation, she should be able to resolve the issue with the company. However, she should also immediately contract her credit card company, explain the situation, and report it as an unauthorized charge.
Being an informed consumer
Consumers often complain about a store's return policy, although many are not unreasonable, if the consumer is aware of the policy and acts accordingly.
"This deals with Best Buy's return policy which only allows us to 45 days to return defective merchandise," Mel, of Mason Neck, Va., said. "I bought a camera battery charger and did not test it until after the return period, per the receipt had expired. While the item is warranted for a year; Best Buy will not take it back and deal with the manufacturer after the stated short period. I've learned not to purchase from Best Buy or to test and use it immediately. I'll use Best Buy as a last resort even if the price is higher elsewhere."
While Mel is obviously miffed, he seems to realize that the whole episode could have been avoided had he immediately tested the merchandise before he purchased it. As things stand, he can still get his money back from the manufacturer, since the product is under warranty for one year.
---